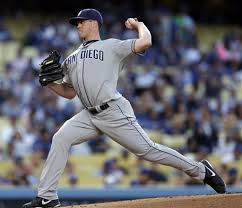 The Padres lost tonight to the Dodgers 9-7 in what was one of the most difficult to watch losses of the year.  It wasn't stomach churning because you felt the team was soundly beaten by a better team.  Quite the opposite.  It was a game the Pads initially lead, and had multiple opportunities to win after blowing the lead against a weakened team that they frankly should be able to beat.
Things started out exactly according to plan with the Friars scoring early and often agains Ted Lilly.  Denorfia lead the game off with a HR, and the next inning Blanks followed with a 2 -run line drive laser beam over the left field wall for a quick 3-0 Padres lead.  For the second time in three nights that lead would not nearly be enough for a beleaguered starting rotation.
Clayton Richard was coming off a nice 2-inning outing against Toronto to notch the win in that 17 inning marathon, as well as 6 solid innings in he previous start after a rough first 4 batters to start that contest.  In other words, there was reason to hope that his bad start to the season was behind him.  The stomach virus had run its course and the arm slot had ben fixed. It was time for Clayton to soar.  Unfortunately it was the ball that was soaring.  No sooner had the offense given him a 3-run lead to work with that he gave up a 2-out, 2 strike, 2-run home run to the L.A. #8 batter Federowicz.  Mistakes happen, but mistakes like this cost leads, and often times ultimately games.
To the credit of the offense they responded and got those 2-runs back thanks to a couple of 1b's by Guzman, and Richard, and some sloppy play by L.A. (error was given to Puig for having too strong an arm).  5-2 Padres lead! Things look good right?  Wrong.
In the bottom of the 5th Richard, who had been working behind in the count frequently, allowed a 1B and BB to set the stage for the superstar of the night Yasiel Puig.  A first pitch CH was hammered 443′ into the left field bleachers to throw away the lead.  A BB issued by Richard before leaving would then score after Ross relived him and allowed a 2B and sac fly to put the Pads behind 6-5.
The Pads would not give in though, scoring a run to tie it up the next inning, but with the bases loaded and 1 out, Chase Headley would swing at the first pitch and kill the rally with a 4-6-3 twin killing.  Squandered opportunity.
L.A. would then score 3 more the following inning thanks to Puig's second HR of the night, a 2-run blast driven opposite field.  Quentin would hit a solo HR in the 7th and get booed rounding the bases, as he was by the fans all night long, but that was the end of the Pads offense.  Game, set, series.
Bottom line is this.  Any time your offense gives you an early 3-run lead and scores 7 runs, you expect to win the game.  If your starting rotation can't hold leads and get you deep into the game, a dangerous domino effect can start that can weaken your pitching staff for an extended period of time and can be difficult to win games.
What's good right now?  The defense continues to be very solid, and at times exceptional. The offense is hanging in there despite the slump of Headley, thanks to Cabrera ( 10 hits last 5 games), and Gyorko (hitting safely in 8 of last 9, 7 R, 5 RBI).
What's not good right now?  Chase Headley who since May 8th has seen his average drop from .320 to .229, with only 2 HR and 7 RBI.  Grandal going 2/24 since returning.
What's good on the horizon?  Cameron Maybin is hitting well in Tucson .323, 3 Hr, .447 OBP.  Logan Forsythe hitting .500 in his first 5 games played in Tucson.
What's not good on the horizon?  MLB is reportedly preparing to suspend MLB players associated with the Biogensesis scandal, with the help of testimony being provided by its founder Tony Bosch.  Yasmani Grandal and Everth Cabrera were reported to be on the list of players associated with the clinic and could face possible action by MLB if found to have received illegal products from the clinic, and compounded consequences if found to have lied about it previously.  Let's hope for many reasons neither player is implicated further in this mess.
Only thing left for the Pads to do here in L.A. is to salvage the final game tomorrow.  Marquis will go up against Kershaw, with first pitch scheduled for 7:10.  Hope you'll join Ted Leitner and me bringing the action on Mighty 1090am.
Thanks for checking in with this recap, look forward to breaking down a Padres W tomorrow!
Scan