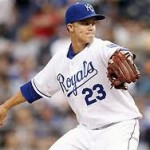 Within 48 hours of him making a public request to be traded from the Royals, former Cy Young award winner Zack Greinke is reported to have been moved to the Milwaukee Brewers for a four player package.
If the early reports are accurate, Kansas City's return package appears to include shortstop Alcides Escobar who posted a .288 on-base percentage last season, center fielder Lorenzo Cain with some ability but no amazing, off-the-charts tool, young pitcher (Jake Odorizzi) who has lots of promise but spent 2010 in the Class A Midwest League, and an unidentified fourth player who may or may not be former first-round draft pick Jeremy Jeffress. Another report has the foruth player possibly being SS Yuniesky Betancourt.
All along the Royals were expected to be asking for a package complete with two MLB ready middle infielder's as they have plenty of young pitching in the pipeline.  On first glance this package of players appears to be a bit lighter on star power talent than what would be expected in return for Greinke, and may indicate that Royals' GM Dayton Moore wanted to simply get the deal done as quickly as possible once Greinke went public with his request for a change,
Greinke, 60-67 with a 3.82 ERA in six full seasons with the Royals after being drafted No. 6 overall in 2002, missed nearly all of 2006 because of an anxiety disorder, and that was partly shaping the possible market value for him. He now joins a Brewers rotation that includes Yovani Gallardo, Randy Wolf, Chris Narveson, and Shaun Marcum, acquired this month in a trade with the Blue Jays.
Scan