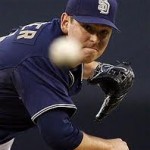 Congratulations to Tim Stauffer on being announced the Padres opening day starter for the 2011 season!
It's hard not to be happy for him.  It's an honor usually bestowed upon a team's most experienced, established, and successful pitcher.  Stauffer holds none of those titles on this staff.  In fact, this time last season he was facing the prospect of being placed through waivers, if he did not make the team as a member of the bullpen.  Of course he made the team in the bullpen, and went on to post a 1.85 ERA while making 25 appearances as a reliever, and 7 starts.  This spring he leads the rotation candidates with a 2-0 record and 3.66 ERA.
With only 14 career wins and 38 starts under his belt he's not the least experienced or successful starter to ever get the opening assignment.  That honor belongs to Pat Dobson who in 1970 took only 11 career victories and 20 starts to the hill with him to start the Padres season.
Aside from the underdog attraction, there is also the character that Stauffer has displayed throughout his career that makes him someone you want to root for.  In 2003 he was the Padres #1 draft pick.  The Padres were prepared to give him $2.6M, which Tim could have easily agreed to.  Instead he divulged to then GM, Kevin Towers, that he had a an arm problem.  The Padres still signed him, but for $750K instead of $2.6M.  You don't see honesty and integrity like that very often, and even less often in the business of professionaly sports.
He chose to not have surgery but did rehab to strengthen his arm, and appeared to be on is way to making a complete recovery and comeback reaching the big leagues just 2 years later.  He wasn't able to stick, however, and spent time over the next 4 years bouncing up and down, enduring more arm problems and eventually surgery to repair the labrum.  Finally last year he felt completely healthy for the first time since college, and showed what he was capable of.
He still needs to prove he can be a healthy and effective member of the starting rotation for a full year, but if last year's results are any preview, the expectations the Padres had for him when they took him as a first round pick may be fulfilled.
Congratulations, Tim, you've paid your dues.  Now, GO GET 'EM!
Scan