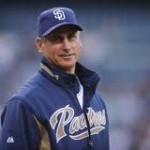 Congratulations to the Padres on a tough 2-1 victory tonight, and to manager Buddy Black getting his 400th career managerial victory.
For the second time in a row the Pads were able to beat 2 time Cy Young Award winner Roy Halladay to become the first team to beat him twice in a season since 2009.  This time it was Edinson Volquez who out dueled the tough right-hander, pitching 6 innings, allowing 1 run on 6 hits, and striking out 5 on his way to recording his second win of the season.
In the midst of a season where little has gone as planned, it's nice to see Volquez throwing well, getting better at harnessing his great stuff, and controlling his focus with the game on the line.   With Edinson pitching well, Yonder Alonzo riding a 9 game hitting streak and .301 avg., and Andrew Cashner getting guys out with his 102 MPH fastball, the Mat Latos and Anthony Rizzo trades are off to a good start.
The only negative on the night was the early departure of Mark Kotsay, who started the game in left field, but had to leave after the 1st inning with a tight back.  With a history of back problems the Pads are hoping that they got to it early enough and the tightness subsides quickly.  The team can ill afford to lose its best left handed bat off the bench.
With tonight's win, the Pads are now in position to win their second series in a row.  Jeff Suppan (2-0 0.90) will get the ball against Cole Hamels (4-1, 2.45) in the series finale.
Go Pads!
Scan