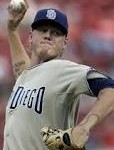 Josh Byrnes sent a bold message to the Padres organization, its fan base, and opposing GM's on Saturday when he pulled the trigger on a five player deal that sent Mat Latos, arguably the team's most successful and dominating starting pitcher since Jake Peavy, to the Cincinnati Reds in return for a basket of talent.
The new Padres GM showed everyone in MLB  that he is not afraid to make aggressive moves in an effort to further add depth to the talent base of the organization as it retools around young players.
Latos, who went 9-14 with a 3.47 ERA in 31 starts last season, showed stretches of dominating brilliance during the past 3 seasons with the Pads.  His fastball regularly checked in at 95+ MPH, while his buckling curveball and improving change up combined to overmatch hitters, and generate whispers of Cy Young winner of the future amongst scouts and executives throughout baseball.  However, there have also been stretches of mediocrity, and costly lapses of composure and concentration that has caused some to wonder if he will ever be able to harness his electric stuff consistently enough to put together a full season of dominance.
Despite the uncertainty that surrounds Latos, anytime a GM moves a potential staff ace it raises eyebrows.  The return for such a potentially rare commodity should be high, and Byrnes appears to have cashed in nicely.  The plunder of talent includes three of the Reds top 10 minor league prospects in infielder Yonder Alonso, catcher Yasmani Grandal (both former first round picks), and right-handed reliever Brad Broxberger.  In addition they also added veteran right-handed starter Edinson Volquez.
It was no secret that the Reds were seeking starting rotation and everywhere they turned teams were asking for Alonzo and Grandal in return.  Alonzo has long been rumored to be a trade candidate as he is blocked at his natural first base position by All-Star Joey Votto.  Alonzo's .330 avg., 5 HR's and 14 RBI in 47 games played with the Reds last year only wetted his pursuers appetites.  Grandal hit .305 with 14 HR's and 68 RBI last year as he rose from A, to AA, and finishing in AAA in the Reds system, but was also seemingly blocked from reaching the big league team by fellow prospect Devon Mesaraco.  Boxberger posted 11 saves and a 2.03 ERA while pitching in AA and AAA, and is recognized as one of the top minor league closer prospects.
The 28 year old Volquez went 5-7 with 5.71 ERA last season in 20 starts with CIN.  His best season was in 2008 when he went 17-6 with a 3.21 ERA, but the following year he struggled and ultimately had Tommy John surgery. He has been trying to find his 2008 form ever since. The Padres are expecting that pitcher friendly Petco, and pitching coach guru Darren Balsley will help him towards that end.
While I understand why some Padres fans may be upset at losing a pitcher of Latos' potential upside, the return was well worth it in my opinion.  The Reds apparently feel that the time for them to win is now, especially with their control of  2010 MVP Votto potentially coming to an end in two years, and their division rival Cardinals and Brewers losing their superstar hitters in Albert Pujols and Prince Fielder respectively.  Their fervor to take advantage of this perceived window probably pushed them to do more than they normally would, and part with more talent than normal to land a starting pitcher to help them make that charge.
The Reds' desperation to pounce may end up being the Padres long term gain.  Anytime you can add three industry touted prospects you have to listen, and with the team's focus on adding young talent along with questions hovering about Latos' long run stability this was a move that the Padres had to act on.
If all goes well for both sides Mat Latos continues his growth and helps the Reds with the NL Central, while the Padres add 4 players who at a minimum should all help the big club soon, and possibly could become impact players for years to come.
Congratulations to Josh Byrnes on this bold and foresighted move – the kind of move the Padres need, and it may not be the last.
Scan