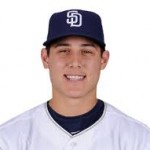 Many of you could not access the article by Kevin goldstein of Baseball Prosepctus that I attached to my article What Is The Best Way For Padres To Handle Rizzo?.  I apologize for that.  In an effort to get to you the salient points of his article, but without taking away from EPSN's licenesed property I would like to share here just a a few snippets of the article.
Anyone can read the opening of his piece which basically states many teams are bringing up young talent.  Some have valid reasons due to injuries of existing MLB players, but why did the Royals call up one of their several young future stars, Eric Hosmer, and was it the best decision?
Goldstein points out, "This isn't about talent; it's about the mirage of a hot start, winning environments and, of course, money."  He then admits that, " I got caught up in the excitement myself…but with time has possibly come wisdom, and now I'm thinking that's all a bunch of hogwash."  The hogwash being that this one call up is the turning point for Royals baseball this season, and the start of a new era.
He then collects himself from his initial giddiness of the move, and points out the common illusions of a team's chances of making the playoffs, what one young player realistically adds in terms of W's even if he is a difference maker, and how if the player does all you hope he will it actually costs you from making strongest playoff run in the future.
Regarding the environment you are bringing the young player into Goldstein notes "One front-office veteran questions the thought of throwing Hosmer to the wolves alone. 'If I'm in the Royals front office, I'm fighting like hell to keep him down…why bring him up on a team whose big three are Kyle Davies, Bruce Chen and Jeff Francis?'"
Kevin also adresses the obvious money issue of becoming a super two arbitration player, and how it hinders a possible playoff run when the young players actually are ready to make that charge, "The Royals don't have unlimited finances, and that multimillion-dollar deal that could have been avoided by waiting one more month three years ago suddenly limits the team's ability to add the pieces that might put them over the top."
Finally, Goldstein points out that even if the player's presence is impacting from the moment he steps on the field (no guarantee, just ask the Giants about Brandon Belt, or the Braves regarding Freddie Freeman), he points out, "Even if Hosmer is immediately great — say, a six-win player — that one month of impatience cost the team millions of dollars three years later for a single extra victory in a season in which the odds say overwhelmingly that it just won't matter."
In summary, Goldstein admits to being excited about seeing young talent come up just like anyone else (myself included!), but if it isn't likely to impact your team's playoff chances, isn't necessarily the most supportive environment for is immediate development, and exposes you to limiting your efforts to wisely use limited finances when it actually IS time to make a run for the post season, then why do it?
Yes it may satiate a few fans' desire to see change and get a glimpse at the future, but if it decreases your chances of successfully developing the player as quickly and fully as possible, and limits the team's future financial ability to bring in more support when those young players have matured to make a legitimate run, have you really done your fan base a service?
Not necessarily points that have not already been debated amongst ourselves, but still another perspective on them as we debate what is best for the future of Anthiny Rizzo and the Padres.
Scan