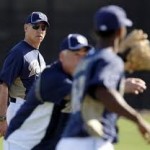 As a member of the media I have learned to love spring training possibly even more than I did as a player for two reasons.
1. I can enjoy the baseball in a more relaxed mode. As a player most years I was fighting for a job, and it was not a relaxed time for me in general.
2. In my role now as a media member it provides me with a chance to talk with players and coaches about things guys are working on, which I learn from, and can then observe progression or digression of during the season.
Don't get me wrong, I would love to be still be on a field competing for a job, but now I learn more about the game of baseball in areas I never would have as a player because I was so focused on my own stuff.  This game never stops teaching if you are willing to learn.
All that being said here are some initial observations about the Padres training camp from my first day in Peoria.
There is some good teaching going on here.  That may sound intuitively obvious, but it is not always the case.  You need two things for this to be present.  First, instructors who are capable and willing to do it.  Pads have plenty of that with Glenn Hoffman, Darren Balsley, Rick Renteria, Randy Ready, Darrel Akerfelds, and now Dave Roberts and Brad Ausmus, all of who are full of knowledge and not afraid to offer it to guys.  Second, you need players who are wanting and willing to make changes.  Watched some great insights being offered yesterday, and guys applying it in practice and the game.
There is an overall improvement in quality of talent on the field.  In the past there was a noticeable drop off in the talent of the young guys on the roster for the first time, or in camp because they were pitcher of the year in the minor leagues, for example, the year before.  The overall quality of the athleticism in the position players, and arm strength with the new young pitchers is noticeably better all around.  Nice to see that there are more guys who are candidates to make it to the big leagues, and be more than just a guy once they get there.
There are a bunch of new faces, and everyone is still trying to figure out the clubhouse chemistry, pecking order, and leadership.  It's a interesting mix though with veterans like Harang, Bartlett, Hawpe, and the vocal and energetic Orlando Hudson, who keeps everyone awake with his playful chatter.  It will be interesting to see how the ingredients blend, and what leadership emerges.
Buddy has proven his ability to run a clubhouse, and a ball club.  Spring training appears to be running as smoothly as always, and potential distractions like the trade of Gonzo are in no way being allowed to affect the teams focus of getting ready for opening day.
Just as the players are learning each other, the coaching staff is being stretched to learn the talent level, strengths, weaknesses, and personality of these new players as well, but everyone seems to be stepping up to the challenge to bring all these new pieces together to create a Padres team even more competitive than last year's.
Looking forward to seeing how this team develops over the next four weeks, and to hearing your thoughts on what you see leading up to opening day.
Scan