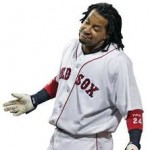 Finally, MLB has rid itself of Manny Ramirez, one of the most self centered baseball players in recent history.
No one can argue that throughout his career, and especially during his seasons helping the RedSox win two world championships, he was one of the most feared hitters, and clutch RBI producers in the game. However, his indifferent and indignant personality that was early on referred to as immaturity, eccentricity, and "Manny being Manny", became more and more troublesome to teammates, and fans, eventually devolved into an arrogant surliness.
His self serving actions eventually lead to fights with front office personnel, arguments in the dugout with teammates, disinterest on the field, and an overall lack of respect for the game and it's fans.  After unceremoniously being sent away from the team he helped lead to World Series titles, his teammates happy to see the door hitting him in the tail on the way out after he quit on them in the middle of competition, he had a chance to redeem himself with the Dodgers, but he blew that once in a lifetime opportunity as well.  Never before had a player so instantly and completely captured the support of a fan base overnight, and in a media mecca at that.  Yet, before the dread lock wigs were all unpacked at the souvenir stands, he was caught using illegal performance enhancing drugs.
That was the beginning of the end, as he brazenly showed no remorse, and laughed about it upon his reinstatement.  His performance faltered, and his MannyWood popularity deflated faster than a balloon popped by a steroid needle.  It was over, and so was his reign as the most tolerated, self absorbed, malcontent in the game.
Now that he has been banged a second time for using PEDs, he has mercifully decided to follow his usual tactic and take the easy way out by retiring, while throwing out flippant comments on his way into disgraced oblivion.  After all those years of building a resume probably worthy of the Hall of Fame, all that remains is the smoldering remains of a career that only leaves behind questions of what did any of it really mean, including the 12 All-Star selctions, 9 Silver SLugger awards, and 2 world championships.
Manny, your days of disrespecting those your worked with, those that worked to support you, those who paid to watch you, and the game of baseball itself, are over.
You never cared…and now neither do we.
Scan