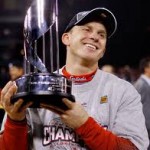 Is David Eckstein playing this year and if so what team is he on? – Diane
Diane, I've received a number of inquiries about David, his whereabouts, and why the Padres did not sign him back.  Eck was one of my favorite Padres and MLB players ever to watch and be around, and his inspirational play will forever be a measuring stick and reminder for me as to how the game should be played….always!
First, I believe the Pads opted no to resign him mainly because they felt he had become too one dimensional (he can play only 2b now), his range on defense had diminished, and injury issues hampered his ability to perform as needed down the stretch.
Second, he is still a free agent and is looking to find that right fit.  Whether he will find it remains to be seen.  I thought maybe the Mets might be a match after they released Castilla, and Washington expressed interest before spring started but neither opportunity came through.
As I see him watching from the sidelines right now, I also wonder if organizations are afraid to sign him simply because if things don't work out the don't want to be the team that released David Eckstein.  Whatever the reasons for his continued free agency, I hope he finds a place to play if that's what he wants.  If his playing days are over, then I selfishly hope for the good of the game that he feels the draw to stay in the game as a front office advisor, or seemingly more to his style an on field coach.
The game of baseball is better with David Ecsktein in it, and one way or another I hope he returns soon.
Scan