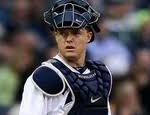 It seemed unusual that Nick Hundley was not in the lineup tonight as the Pads faced the Rockies and their left-handed starter Jeff Francis.  After the Pads 10-2 loss to the Rockies more was revealed as the UT's Chris Jenkins reported that Nick was told he was being optioned to Tucson to get his hitting woes straightened out.  Yasmani Grandal is being recalled from Tucson, and is expected to be with team for Saturday's game.
"This stretch, this first half, it was wearing on him to the point where he needs to just take a big step back and exhale and get back to enjoying the game, playing loose and relaxed," said manager Buddy Black. "He'll never lose his intensity as a player. As it went on, he tried harder and harder, and you can't play like that. There's got to be a looseness and a relaxed focus to your game."
Hundley was hitting .166 with 3 HR's and 22 RBI at the time of his being told about being sent down, and was hitting .157 in June.   "I have to take a step back," he said, "and get it right, because it hasn't been right this year. I can't stand here and deny it. And I appreciate the fact that they were still throwing me out there when I wasn't playing well."
This is never an easy decision for an organization, especially when they've just given the player a $9M contract to be the everyday catcher.  Nick was having his best year defensively, and saving the team runs with his handling of the staff, blocking balls, and leading MLB in runners thrown out with 19.  However, his offensive woes had reached a point where not only was it hurting the team, but also in my opinion a point where more repetitions in big league games were not going to solve the riddle.
Sometimes a guy goes through a "slump", and you can see that things will eventually turn around as along as the player continues to have faith in himself, and maintains a mechanically solid approach either at the plate or on the mound.  All players go through streaks where things just aren't going there way, but the foundation for their previous success is still visible.
I'm not a hitting coach, but in watching Nick since mid May, from the perspective of a former pitcher whose livelihood depended on being able to asses swings and hitters, it looked to me like he was getting further and further away from some basic mechanics of a healthy swing, and the mental approach that would get him out of the rut that he had become mired in.  I know that Padres hitting coaches Phil Plantier and Alonzo Powell were doing all they could to help Nick, but sometimes a player doesn't even realize how far away he has strayed from the things that previously made him successful, and efforts to help him become road blocked.
In times of struggle players first tend to want to return to what they believe had brought them success before.  This is fine if:
A.) The player truly does know what he was doing correctly before.
B.) The player truly does know what he is doing incorrectly now.
C.) The player understands how to get back to what he was doing correctly.
However, when a player is in the midst of the mental anguish of underperforming finding that path back can be frustratingly elusive.  Worse yet, sometimes the player returns to what turns out to be a primrose path.  What worked before doesn't work anymore either because the competition has caught up and found a weakness to newly exploit, the player's body has changed and can no longer function successfully with those same mechanics, or the approach was fundamentally flawed from the beginning and doomed to reach a dead end or plateau.
Whatever the reasons, the player needs to step back from their natural urge to try harder and forge ahead.  This goes against their natural instincts, as it is this very character trait of fighting through adversity and stubbornly staying confident in their own ability that has gotten them to the big leagues in the first place.
Instead they need to against their DNA, step back, reassess, and take a different mental and physical approach.  Often this process, while humbling at first, ultimately gives the athlete the ability to re-emerge with a better physical and mental understanding of themselves, and insight of how to move forward to hopefully an even higher level of performance.
The Padres have made the difficult, but in my opinion correct decision to send Nick down, for the long term good of both Nick and the organization.  Their have been hundreds of players who have had to take a step back to be able to then surge forward, and hopefully for Nick and the Pads he will be able to make the necessary changes quickly, and ultimately come back stronger for it.
Scan