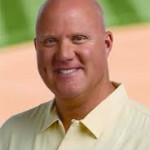 In the midst of his effort to make comeback to the majors as a pinch runner, former MLB pitcher and current Padres TV analyst, Mark "Mudcat" Grant injured himself, and will likely start the regular season on the 15-day disabled list.
Grant pulled his right hamstring, and strained his left quadriceps while racing team first base coach Dave Roberts in the 40 yard dash.  "It happened on the third race", said the former hurler. "I ran a 5.2 on the first one, and Dave barely beat me.  The second one I ran a 5.3, and the third was a DNF – did not finish."   When asked if he actually heard the hamstring explode he said, "No, but I did almost black out…what an idiot!"
Grant's last appearance as a pinch runner came back in 1988 as a member of the Padres under skipper Bruce Bochy.
No timetable for his return has been set, but judging by the wraps, ice bags, timers, and other modalities being used to treat the injury it does not appear to be a day-to-day situation, and may eventually require a move to the 60 day DL to open his roster spot.
When asked about his anticipated return Grant projected, "I should  be ready by the All-Star game…of 2013."   He will be transported back to San Diego in a few days for further evaluation.
Although this is a major set back to Mud's comeback attempt on the field, it is not expected interfere with this broadcasting responsibilities covering the Padres in the booth next to Dick Enberg on FOX Sports San Diego.
Our best wishes to the Big Right-Handaaaah for a full and speedy recovery!
Scan