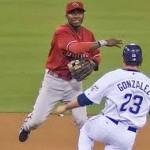 Expect the Padres to announce later today the signing of 2B Orlando Hudson to a multi year deal.
Hudson was just talking about his decision, and excitement to be joining the Padres. He mentioned in a radio interview this morning that he had been talking to 5 different teams for 2-3 deals, but has chosen to join the Padres.  Reports are surfacing that deal is for 2 years and $11.5M pending physical.
The 33 year old Hudson hit .268, with 6HR's and 37 RBI in 126 games for the Twins last season.