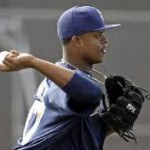 It was the starting staff's turn today to take advantage of their bat swinging teammates, who are still trying to get their timing up to speed.  As I ran back and forth from field to field trying especially to watch guys I had not seen much of before, here's what caught my eye:
X FACTOR: Edinson Volquez – Since being acquired in the Latos deal with the Reds, this is one of the guys who I believe has a great chance of making an unexpected impact.  He's had his struggles the past couple of years, but the arm still has plenty of life, and with a change of venue and the chance to work with Darren Balsley he might be able to contribute more than any number crunching projection might predict.
Interesting 8 minutes of work today, by the veteran right hander.  The velocity was there early, along with a wicked curve ball that actually buckled me as I stood behind the cage.  As he warmed up on the mound I turned my head for a moment to say something to Mark Merila, and when I looked back out towards Volquez all I saw was a ball coming straight at my face!  Although I knew there was netting between my mug and the ball rapidly approaching it, I instinctively still flinched to get out of the way.  The moment I moved, the ball took a sharp right turn and darted hard towards the plate…buckled by a curve ball while standing behind the cage.  My momentary embarrassment was quickly replaced by admiration of the nasty hammer I had just come face to face with.
Volquez then started his round with some lively fastballs, and a couple of effective change ups before hitting a skid for a couple of minutes where everything he threw was elevated and lacking the same command and life as the previous 10 pitches.  Finally Balsley stopped him and had a couple of words with him, and when he resumed the life was back, and the ball was again in the zone with some plane.  Along the way, some of those hard curveballs were mixed in with the change ups, and the round finished in my opinion on a good note.  I'm not sure what Balsley told him (if I had to make a guess I would say maybe something about using and leading more with his lower half, but I really don't know), but regardless of the content there are signs that Volquez is learning from his new coach, and is willing and responsive to the input.
BACK IN THE SADDLE: Clayton Richard – In an earlier article I had reported that Clayton's arm motion looked fairly smooth during a bullpen session, and that he appeared to me to be reaching out further than before his surgery that ended his season early last year.   Of course facing hitters is different that throwing a bullpen, and he appeared to pass that test today.  No visible reservations of letting the ball loose, good life, pretty smooth and consistent mechanics, and some nice change ups with late downward action to boot.  It felt like he may have ended his session a little early (just guessing as I was not timing him, but it seemed a shorter session than the others), but there were no visible signs of anything bothering him, and nothing but upbeat reports afterwards.  All in all I thought it was a very positive next step in his steady return to the rotation on opening day.
YOUNG GUNS: Anthony Bass & Joe Weiland – Bass again showed off his strong arm, and fastball that hitters swear rises even when he throws it at the knees.  It's easy to envision him being a power arm in the rotation before long, and for many years.  How quickly that happens, and how smooth his transition will be when it does happen, I believe will depend largely on how quickly he can fine tune his fastball command in the zone.  Today was my first peek at Weiland facing hitters, and although it was an early spring BP session it was still impressive. From the first pitch it was 4 seam FB on the outer corner, then inner corner, then a 2 seam come back FB on the inner corner, followed a CH down, then a slider on the hands.  He had corner command of everything to both sides of the plate, and the stuff was good.  You know a guy has some teeth on his slider when he tells the batter it's coming and still shatters his bat.  The only negative about Weiland's outing was that it was at the same time as Robbie Erlin's on the other field, and who I also wanted to see…heard he threw great too.
One hitters note.  Along with his solid swing, I've been noticing something else so far about Yonder Alonso during the batting practice sessions the last two days – he doesn't just hit mistakes hard, he's been hitting some pretty darn good pitches hard as well…nice.
Everything appears to be moving along as planned so far as the March 4th charity game approaches.  These are the days where the drills, and throwing sessions can start to get tedious, and the thought of live competition is moving more and more into the forefront of everyones mind – soon enough, men, soon enough.
"People who write about spring training not being necessary have never tried to throw a baseball." – Sandy Koufax
Scan