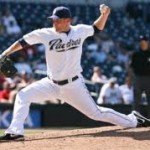 Ok, so as much as I love spring training, and have had a great time watching the team get ready with the necessary fundamental drills, PFP, bullpens, and batting practice, I admit I am ready for games to start.  Today was another day of fundamentals (pop up coverage today), and more live batting practice.
Before I go any further it must be noted that Darren Balsley is one of the better pop-up hitters with a fungo I've seen.  He hit quality and well placed pop ups during the team drill today under pressure, and for his effort earns the Golden Fungo Award for the day.  Glen Hoffman came in a very close second for fungoing hot grounders to third baseman on balls being tossed to him by AA manager John Gibbons.  Gibbons, by the way, gets an honorable mention for putting his life on the line by standing less than 10′ away as he fed pitches to Hoff to hit, almost in line with where Glenn was whacking the balls; one little miss hit by Hoff and Gibby takes one in the grill.
KITCHEN SINK COMMAND: Dustin Moseley – To be honest, the first couple of minutes of his BP session on the mound today did not start off so sharp.  He was missing up more than he wanted, and finally after a streak of 3 or 4 straight pitches way up and in arm side, he made the adjustment.  Boy, did he ever.  The rest of the round was an assortment of 4-seamers, 2 -seamers, cut fastballs, change ups, and even a super slow curve ball that were placed in, out, up, and down at will.  Vintage display of the assortment and command that Moseley used to post a career best 3.30 ERA before season ending surgery to his non throwing shoulder.  The more I watch Mose the more I appreciate what he does…or more precisely what he doesn't do.  By throwing strikes with all his pitches, not walking guys, and fielding his position he just doesn't beat himself.  That may sound strange, but honestly I believe more often than not teams and pitchers beat themselves more often than they are beaten by their opponent.  It appears that Dustin is ready to  pick up where he left off last season, and provide the same consistency every fifth day, hopefully for an entire healthy season.
THATCH ATTACK: Joe Thatcher – After missing most of last season with shoulder problems, Thatch appears to be fully healthy, and on pace to break with the team .  The Pads have modified his workload this spring, after he started the past two seasons on the DL.  Less bullpens, more rest between BP sessions, and shorter sessions have all been instituted to allow him to stay healthy, yet still get sharp for the regular season opener.  He looked good today.  The session was abbreviated for the reasons mentioned above, but the results were typical for Thatch – lots of uncomfortable at bats, and awkward swings by both left and right hand hitters.  A healthy Joe Thatcher from day one will be an important piece of the late inning bullpen brigade.
Other pitchers who put together good second outings in my opinion included Edinson Volquez (staying tall on that back leg to help drive the ball down), Anthony Bass (again great velo, with better side to side command, and some filthy change ups), Robbie Erlin (strike throwing machine), and Tim Stauffer (razor blade cutters, and good curveball tilt).  Third base prospect Edinson Rincon drove the ball nicely today, and I'm still surprised whenever Jed Gyorko hits the ball opposite field just how far it carries.
Just two more days of prep, then we can start seeing how all the hard work put in by these players shows itself in live competition.
"People ask me what I do in winter when there's no baseball.  I'll tell you what I do.  I stare out the window and wait for spring."  ~Rogers Hornsby
Scan