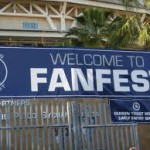 Congratulations to the Padres for putting together the best FanFest I have ever attended!  No matter what criteria you use, attendance, level of participation at the multitude of events and experiences offered, comments by fans, you name it, this FanFest was enjoyable for all.
From the moment I parked and started walking to the stadium with my son, Caden, around 11:30 am, until the moment we left after 5:00 it was non stop fans, fun, player interaction, and great anticipation about the start of the Padres 2011 season.  The entire Padres staff, from the players, to the front office planners, and stadium attendants were all on their game and really into it.
The Padres marketing and community relations departments did their homework on what had gone right and wrong with past events, and made some nice fine tuning adjustments to make this event hum.  I'm sure there were some lessons learned from today's event, and adjustments to improve the event even further will be made for next year, but overall I though everyone did a stellar job.
The were two highlights for me that made this event especially rewarding.  First, was getting to meet and shake hands with so many friendly fans who watch our CH4 Pregame and Postgame shows.  Some I had met before, but many were for the first time and it was fun putting faces to the many emailers, Tweeters, and Facebook followers who I get to share my passion for the game with throughout the year.  If you were one of those I shook hands with today, thank you for stopping by to say hello!
Second, was getting to interview several of the Padres players in two casual group sessions, and assisting with fans questions directed to the players.  Chase Headley, Will Venable, Chris Denorfia, and newcomers Jason Bartlett, Brad Hawpe, and Cameron Maybin were all fun to talk with, and great about sharing information and stories with me and the fans.  If this first impression is any indication, it looks like the pads will have another great group of guys in the clubhouse, and determined players on the field this season.  Maybin was especially fun, showing a great  sense of humor, and desire to have fun with his new teammates in front of the crowd.
All in all, from my perspective it was a huge success on a perfect, warm, and sunny San Diego day at Petco park to kickstart the 2011 season.  Congratulations to the Padres organization and its fans, and thank you to the Padres players and front office staff for inviting me to be a part of it, and for bringing such a fun day of enthusiasm for baseball to San Diego!
GO PADS!!!!!!!!
Scan