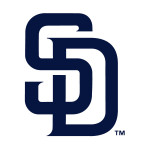 Nothing like a good 'ol fashioned blow out to take away the pain of a walk off defeat from the night before, and that's exactly what the Padres did to the Brewers tonight 13-5.  The Friars scored early, they scored often, and they showed in game one that they weren't going to take this Brewers team lightly and allow themselves to get sneak attacked.
Who else to get the barrage going, but one of the team's hottest hitters of late, Yangervis Solarte.  He jumped on the first pithes he saw tonight and launched into the right-center field seats to put the Pads up 1-0. The lead quickly evaporated though as Ross missed location to three hitters in a row in the bottom half of the inning and yielded a single, double, single that allowed two runs to cross, 2-1 Brewers.
That marked the end of the highlight show for the Brewers, but it was just the start of it for the Pads. In the 2nd the Fathers fired back with three 2-out runs. Hedges and Upton, Jr. each walked, and Ross lined single into right to help his own cause and tie it up 2-2. Amarista followed with triple to score Melvin and Tyson and the Pads were back on top 4-2.
In the 3rd it was J. Upton doubling and Gyorko singling him in, 5-2. The fourth featured Amarista again, this time with a double, and Kemp driving him in, 6-2. Gyorko did it all by himself in the 5th with a solo absolute blast into the second level of bleachers in left to put the Pads up 7-2.
Yep, the Friars scored in each of the first five innings.  While that destruction was taking place, Ross settled in after the 1st, and posted zeros through the 6th. He left with a high pitch count that accrued as battled to give his teammates all he could after his early struggles.
The offense took the 6th inning off from the scoring fest, but made up for it in the 7th as they plated six runs .  RBI singles by Hedges and Upton, Jr., and a sac-fly by Amarista set the table for the big blast – Solarte's second HR of the night, a three run blast into the right field seats,  That mad it 13-3 and officially a blow out.
Nothing to apologize for.  You take blowouts and you enjoy them as much as possible during the game and after…and then get ready to play another hard ball game the next day.  Cashner will look to make it two in a row for the club, an guarantee the Pads a winning roadtrip.  First pitch is at 5:10 and we hope you'll join Uncle Teddy and me for the action on the Mighty 1090!
Scan