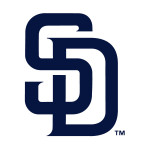 Feast to famine. That's how it was for the Padres offense from last night to tonight as the boys dropped game two with the Brewers 4-1 to even the series.
After pounding out 13 runs on 13 hits just 24 hours previously, the offense mustered only 1 unearned run on 6 hits against four Brewer hurlers tonight.  Nelson started and used a moving fastball at 94-96 MPH to go through the lineup the first time.  Then the second time through he introduced his curveball and slider.  It was actually a clinic on how to go through a lineup the first time establishing a fastball while also minimizing exposure to the secondary pitches to save for later. He lasted into the 7th before giving way to the bullpen.
Cashner also threw the ball well.  He was strong with his velocity sitting at 96-98 early on, but some command issues did take a toll with the pitch count after four walks, and some hittable pitches in the zone.  A lead off double in the 3rd, followed by a walk started the first scoring against him.  A base hit later in the inning scored one run, and it would have likely been two had the runner Lind slid at home.  Instead he came in standing up and Upton, Jr.s on the money throw got him.  I think Lind may have been nursing a sore back and therefore avoided sliding.
A lead off triple in the 4th lead to another run, and that was it.  Game over man.  With Nelson mowing the Pads down there was nothing more Cash could do.
The bullpen faltered in the 7th and allowed two more runs to cross.  That gave their closer, Francisco Rodriguez, more than enough breathing room and he made quick work of the Friars in the 8th 1-2-3 to seal up the victory.
Go get 'em tomorrow.  They'll give the ball to Kennedy, who just returned today from paternity leave. First pitch is at 3:10 (PDT), and Uncle Tdddy and I will look forward to having you with us for the call on the Mighty 1090!
Scan