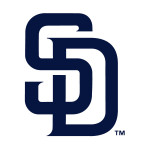 That didn't go as planned…Padres lost the final game to the Brewers 10-1, and dropped the series 3-1.  What started off as a good road trip taking the series from the Mets and Marlins turned into a .500 road venture with these last three loses in Milwaukee.  Breaking even us usually acceptable away from home, but not when you have ground to make up and the chance to play sub .500 teams.
Despaigne was not sharp and the BrewCrew let him know about it early and often.  Only one run crossed in the 1st, but things started to spiral downward in the third when Khris Davis hit a 3-run homer to right to put the Brewmeisters up 4-0.  The game was still reachable with the recently struggling Garza on the mound for Milwaukee, but the 4th inning was the back breaker. Three more runs crossed with Lind's 2-run double being the final blow to put the Padres in a 7-1 hole.
Garza, as mentioned above, had struggled most of the season and even had a 5.77 ERA in his last seven outings, but found a way to shut the Padres down today.  The recipe he used was the same as that used by the starters the previous two days, Nelson and Jungmann.  Fastballs and curveballs, fastballs and curveballs. It kept the Pads off balance each of the last three games. In fact the Pads scored only 3 earned runs combined off the Brewer starters the last three games over their 20.2 innings of work.  Garza's only blemish over his seven innings today was a solo HR in the 5th by Upton, Jr.
Frustrating end to a road trip that started out with such promise.  Nothing for the fellas to do now other than put today behind them and get ready for the home stand starting tomorrow with the Phillies coming to town.
James Shields will kick of the home stand on the mound for the Pads with the first pitch being fired at 7:10 tomorrow.  Look forward to having you join Uncle teddy and me for all the action on the Mighty 1090!
Scan