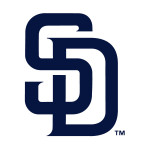 For Padres fans this day had a little bit of everything in it including surprises at the deadline, flips and flops of who would start the game on the mound tonight, the arrival of a new Padres family member, and oh yeah another gutsy Friars victory to cap it all off.  Not a bad day at all Friar fanatics!
First, let's cover the 8-3, eleven inning win that put the Pads out in front of this series with the Marlins 1-0.  As mentioned above there was some uncertainty as to who would actually get the starting assignment for the boys tonight.  Kennedy was the scheduled starter but found out this morning that his wife was going into labor with their fourth child, so he understandably raced to the airport to go be with her.  That meant that Despaigne would step in and take the start, which was no big deal as with the recent day off it would put him at his normal four days of rest.  Turned out, though, that Ian's flights were delayed due to rough weather and he would not make it back in time for the delivery.  So he turned around, and instead came back to the park to pitch.  Disappointed no doubt, but prepared to do his job on the hill.
The distraction of not being able to be with his family looked as though it may be too much for him to set aside early on as he surrendered a walk and a 2-run home run within the first three batters he faced to put the Pads in catch up mode right away.  Once he got that out of his system, though, he then went to work as he retired the next two batters to end the inning and got locked in for a very productive night.
He posted a zero in the second, then started his own rally with the bat to start the third.  After he worked a ten pitch at bat he lined a double into the right field gap.  Solarte drove him in to cut the Fish lead to 2-1.  There was no slowing Ian down after that.  He would go on to put up zeros in each of the next five innings retiring 18 of the 20 batters he would face as he pitched through the 7th.
The Pads offense came through with two runs of support for him in the 4th thanks to a walk and single by Alonso and Norris respectively.  Gyorko then singled in Alonso, and Amarista would hit a fly ball to left deep enough to score Norris to put the Fathers up 3-2.
A couple of innings later more good news arrived for Ian as it was announced that Evelyn Nicole Kennedy had safely entered the world and that mother, Allyson, and baby were both doing fine. Congratulations to the Kennedy family!!!
The only thing left was for the Pads to get the final six outs for Ian and cap the night off with a W. Benoit mowed 'em down in the 8th to set up Kimbrel for his 22nd consecutive save.  Things looked good to wrap this night up with a tidy little bow and hand Ian his 7th victory of the season as well as the Pads their 9th win in 14 tries since the All-Star break.  One minor caveat to this seemingly flawless plan – this is baseball. Anything can happen, and it usually does….and it did.  After easily retiring the first two batters Kimbrel left a 98 MPH fastball up and over the plate to Dietrich and he crushed it over the right field wall to tie the game.  Goodbye Kimbrel consecutive saves streak. Goodbye Kennedy W.   Hello gut check, and hello extra innings.
Maurer pitched what has now become the expected for him, which is a quick, efficient 1-2-3 inning to record a goose egg in the 10th.  Then the Pads offense and Marlins pitching staff went to work in the 11th.  Yes it was a team effort. Venable started it with a jam shot single muscled into right.  Ramos, the Marlins closer struck out Solarte but then walked Kemp.  And then walked Upton to load the bases.  And then walked Alonso to force in the go ahead run – thank you!  The Marlins called on another relief pitcher at that point and he picked up where Ramos left off and walked his first batter, Norris, to plate another run – thank you again! Gyorko then singled to score two more and give the Friars a 7-3 lead. Venable followed with an RBI single in his second plate appearance of the inning to drive in the 8th and final insurance run as eleven Padres went to the plate in the frame.
Quackenbush came on to finish the game up with a 1-2-3 inning, and the win was finally safely in the books.  It was a fine ending to an eventful day.
Now, what was the earlier trade deadline surprise that A.J. Preller sprung on Padres fans and the baseball world? The expectations were pretty high so to shock everyone wasn't an easy assignment but he did it.  In true AJP fashion he once again stunned everyone by…doing nothing. Yep, he essentially stood pat and made none of the major moves that were anticipated and being reported on an almost hourly basis over the past week.
He did make one smaller move in acquiring left hand reliever Marc Rzepczynski (zep-CHIN-skee) from the Indians for Abraham Almonte to help the 'pen, but that was it.  No moving Upton. No Ross-Kimbrel package.  Venable, Benoit, Kennedy who all had to be traded stayed.  Truly, the baseball world may be even more stunned by this lack of activity than it was by his manic paced roster overhaul leading up to the season.
So, what is to be made of this?  I think essentially it confirms that, as I suggested several times over the past few weeks, the Pads were not in one of the extreme "Buy" or "Sell" camps that many wanted to put them in.  There was no mandate from above to dump payroll and sell.  Similarly there've been few signals from the team thus far that it is ready to launch into a playoff contending juggernaut that immediately requires the buy of one or more missing key pieces.  In other words there was no overwhelming agenda for A.J. other than to explore all the possibilities and see if there was some deal(s) out there that would clearly strengthen the team moving forward.  In the opinion of A.J. and his staff the answer was apparently "no", that the deals available were not deemed compelling quality value plays right now so they passed.
In some ways it's actually the most difficult position to be in because if he were in one of the other two extreme scenarios he would be compelled to make moves almost regardless of whether they made solid sense or not.  If you're told by ownership you have to sell then you sell, and do the best you can.  If you have a glaring need for a clear playoff contender you likely address the need, even if it means an overpay which hopefully gets justified in the end by a deep playoff run.  Without either of those compelling "must move" motivators, it instead comes down to accurately and responsibly evaluating baseball moves for their value and merit, and then having the courage and discipline to act on them accordingly. Easier said than done, especially when all the world is waiting, wanting, and expecting massive action.
Keep in mind that today's "deadline" does not put a stop to player movement.  Yes it makes it a little more restricted, but deals still get done from now until the end of the season as players are passed through waivers.  Functionally every player on every roster will be sent through revocable waivers over the next few weeks.  Those that clear can then be traded without restriction same as before today's deadline.  For those players who are claimed off waivers one of three things can happen:
The team who owns the player can enter into negotiations with the team who made the waiver claim and the player can then possibly be traded to that team who claimed them.
If no trade agreement can be negotiated the original team that owns the player can pull the player off waivers (the waivers are revoked), and at that point he can not be traded and presumably remains a part of the team for the rest of the season. (Note: If the player is again put through waivers at a later date it is through non-revocable waivers at that point, and if claimed the player can not be pulled back. The team will lose the player if another team claims him).
The team who owns the player simply gives the player and his entire contract to the claiming team.  This sometimes happens in the case of a team simply wanting to dump a player's salary, or attitude, or non-performance, or who knows what, but they just don't want the player any more.  Padres fans may remember this happening in one of the most famous of such cases involving Randy Myers.  In 1998 Kevin Towers claimed Myers off waivers from the Blue Jays with the intent of simply blocking the ability of the Braves to get Myers. Towers had no interest in negotiating a trade for Myers with the Jays, and assumed they would simply pull him back off waivers and that would be the end of it. Much to his surprise the Jays said "You claimed him, you take him, and the remainder of his $14 million contract!" It was a major miscalculation that cost the Padres organization dearly for the next 3 years.
The point is there will be the opportunity for A.J. to make deals moving forward if they become more compelling, or if he feels more compelled.  Maybe the Pads catch fire over the next few weeks and he decides he is a buyer for that missing piece to be a playoff powerhouse. He may then be more willing to move on one of the deals that he passed on earlier and can place claim or go after whoever has cleared waivers.  Maybe another team who considers themselves a contender loses their closer and is now willing to offer more for Kimbrel than was being offered up this point.  If Craig has cleared waivers, or is claimed by that team, then maybe a more compelling offer tips the balance of value in A.J.'s eyes and Kimbrel is moved.  Maybe a team considers itself a contender right now and is understandably not willing to part with big league talent, but in three weeks it realizes that it really isn't going to the post season and is now willing to move some pieces that it wasn't earlier.
For now the core of this team gets some more time to work together, but the situation can still be very fluid moving forward.  Their performance, as well as other variables mentioned above, will determine what moves, if any, may still take place before the season's end.
Enough of that.  Tonight we celebrate another hard fought Padres victory, the arrival of Evelyn Kennedy into this world and the Padres family, and the strong second half that this core group of players has put together thus far and for now will get to continue to work on together!
Tomorrow Despaigne will get the ball for the Pads and look to lock in a series win with the first pitch being fired at 4:10 (PDT). Can't wait for you to join uncle Teddy and me for all the action on the Mighty 1090!
Scan