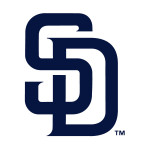 Another exciting game in St. Louis, but unfortunately not the same outcome as the first two as the Pads fell to the Cards 2-1.
For the third game in a row the Pads got an excellent starting pitching effort, this time from Despaigne. He had great command of the fastball and used it from his various arm angles along with his curve and slider to open the game with five scoreless innings while allowing only two hits.
Martinez was overpowering as usual for the Cards, but in the 4th Solarte got to one of his fastballs and sent it flying into the seats in right field to put the Pads on top 1-0.  Yangervis has now hit safely in seven of his last eight games, with a homer, triple, and another homer over these past three games against Cards respectively.  
Despaigne finally gave some ground in the 6th allowing a hard hit grounder up the middle to the lead off hitter, Pham, that ended up being a double. An off the end single into right field scored Pham from second to tie the game 1-1.  That was the end of O.D.'s night but it was a solid 5 inning effort.  Mateo came in to finish the inning doing a good job to retire the heart of the Cards order and keep the game tied.
Kelley threw a scoreless 7th, while the Cards used Choate to releive Martinez in the 7th, and Maness in the 8th to prevent the Friars from scoring.
Maurer came on in the 8th for the Pads an promptly induced a routine grounder off the bat of the lead off man, Pham, to shortstop but it hit off the heel of Amarista's mitt as he attempted to get around it for a game turning error. Pham immediately stole second, and Carpenter sacrificed him to third.  Perralta lofted a fly ball to right field that Venable got behind and made every effort to get off a good throw home, which he did, but not in time to get Pham who tagged up.  2-1 Cards.
Gyorko reached base on a single against the Cards closer, Rosenthal, but the next two batters were retired to end the ballgame, and the Pads two game win streak to start the road trip was halted.  It was a tough loss to swallow as the Pads were poised to take their third straight hard fought win in a row against the team with the best record in baseball and clinch the series win.  Nothing else to do but pick themselves up, dust themselves off, and come back ready tomorrow for yet another hard nosed battle.
Kennedy will get the ball for the Friars tomorrow to win the series. First pitch will be fired at 11:15 am PST, and Ted Leitner and I will be be excited to bring you the call on the Mighty 1090.
Scan