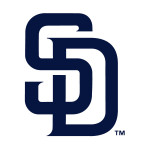 All good things must come to an end including the Padres modest four game winning streak which was halted today at the hands of Johnny Cueto and the Reds 4-0.
The Friars had their chances to get to Cueto early with a runner in scoring position and less than two outs in each of the first three innings and the 5th as well, but they couldn't deliver the damaging blow.
As for Odrisamer Despaigne he threw a very respectable game except for a couple of pitches to the same batter, Jay Bruce.  Bruce tagged O.D. for a solo HR in the 2nd on a fastball up and away.  The Cuban then worked out of trouble adroitly in the 3rd and 5th.  It appeared, though, that the combination of the stressful pitches needed to dodge trouble in the earlier innings, the heat and humidity of the day, and maybe even the extra effort put on his legs through running the bases after his leadoff double in the 5th all piled up on him in the 6th.  A single and double to open the inning set the table for Bruce who replicated his swing from his first at bat on another fastball up and away and pulled it into the right field bleachers for a 3-run back breaker.
The Reds bullpen took over the Cueto in the 8th, and then handed it over to Aroldis Chapman who powered through the 9th to seal up the series finale for Cincy.
All said and done it was a winning series for the Pads to start the road trip, and there were plenty of personal positive stories as well.
Matt Kemp getting 5 hits in the series including there opposite field extra base knocks.
Yonder Alonso continuing his hot ways since his DL return reaching base five times including his grand slam in game #2, and making several nice plays with the glove at 1B.
Will Middlebrooks reaching base 6 times including a home run in game #1.
Derek Norris reaching base 5 times and homering while still throwing runners out.
Solid starting efforts from Tyson Ross and Odrisamer Despaigne.  Especially important for reasons that you'll read about in a second.
Continued solid bullpen work as they posted 9 1/3 scoreless innings while striking out 9.
There was some additional off the field news to report as well. Not all of it good.
Good – Melvin Upton has finished his rehab assignments and joins the team tomorrow for the first time since being traded over from the Braves. He was in the lobby of the hotel here in Atlanta this evening, so he will be ready for action tomorrow. To make room for his arrival Almonte was optioned to El Paso.
Good – Wil Myers had two hits in five at bats in his first rehab game for El Paso. He is expected to have at least two more rehab starts and then reassess to see where's he at in his recovery from his sore left wrist.
Not so good – Brandon Morrow had to leave his rehab start early today in the third inning with shoulder discomfort. Not what he and the Pads were hoping for in what was expected to be his last start before rejoining the big league starting rotation.  Not an encouraging sign, and as noted above makes O.D.'s solid starts recently that much more important.
Kennedy will get things started on the mound for the Friars tomorrow.  First pitch will be tossed at 4:10 PST and you are cordially invited to join Uncle Teddy and myself for all the action on the Mighty 1090.
Scan