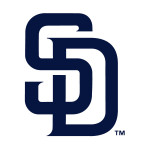 That may have been the longest 2 hour and 44 minute game I've ever experienced…but maybe that was because of the 1 hour and 56 minute rain delay that started in the shortest amount of time after a first pitch being thrown I've ever witnessed.  It was all worth it though as the Padres took down the Nationals in the first game of a four game set and seven game homestead 8-3.
After leaving Seattle last night at midnight the team landed at 3:00 this morning in…well…Seattle! At least that's what it felt like as the cold, wet conditions indigenous to the NorthWest followed the boys down South.  The rain fell lightly but fairly consistently all during pregame forcing batting practice for both clubs to be taken indoors as the tarp covered the field.  Yes, I said "Tarp", as in tarpaulin.  Petco Park does own one, and the grounds crew actually gets to use it once every 337 games or so.  It was April 8, 2011 that a game was last suspended at Petco, and it looked like it might happen again before a pitch would be thrown.  Miraculously, however, a window of non precipitation arrived just as the managers were exchanging lineup cards and the home umpire bellowed out, "Play Ball" at the originally scheduled 7:10 start time.  Ross threw his first pitch, and on cue the rain started to come down again. Ball one – harder rain.  Strike one – harder yet. Strike two  – really coming down now.  By the time ross was done striking out Span on six pitches it was raining so hard again that the umps had to stop play and call out the tarps.
Shortest start ever.  So began the ensuing 2 hour delay that forced Ross and Nats starter Fister to sit…and sit…and sit, after both having warmed up to pitch a ball game, and Tyson having already thrown six pitches of it.  When play finally resumed it was not a total surprise that both staters were still on tap to pitch despite the very long layover.  True, sitting around then cranking it back up again is not the best thing for your arm, but when all you've essentially done is warmed up the stress level is relatively minimum.
So, how would it affect each pitcher if at all?  The answer to that came fair quickly for both hurlers. Ross came out and easily mowed done the next two batters he faced to finally end the half inning he had started 2 hours previously.  Fister, on the other hand, was far more challenged to find his groove as with 2 outs Kemp and Upton each singled to reach base then Norris crushed his 3rd home run of the campaign to give Ross a nice 3-0 lead to work with.
The lanky righty went through the next three Nats batters again like a hot knife through butter with his vicious slider, brining the boys back to the dugout quickly to go back to work on Fister.   Once again the rally started with two outs, and this time it was Spangenberg going deep for the first time in '15 pulling on off speed offering over the right field wall.  Venable then walked, Kemp singled again, Upton then drove Venable in, and Norris drove in Kemp and Upton with a triple to grow the lead to 7-0. Guess that delay did not do Fister good.
With a comfy margin to work with Tyson posted another zero in the 3rd, but the fourth was a different story.  After punching out the first two batters he allowed a walk, single single and the Nats were on the board. He worked out of it with no more damage that inning, but allowed another to cross in the 5th.  He then opened the 6th with back to back free passes, and with that Buddy had seen enough.  Having done his job, and given the club 5 good innings after that long delay Buddy wisely went to the 'pen.
Thayer, as usual, did his job stranding both runners and posting a zero.  Quackenbush allowed one to cross in the 7th, but Maurer finished out the inning for him and then closed out the game himself.
Given the long travel night mentioned above, as well as that fact that the Nats had arrived in San Diego 8 hours earlier than the Friars and on fire having won 12 of their last 15 games, the victory was sweet.
Spangenberg, by the way, recorded his first multi-HR game of his career by going deep again in the 4th inning, driving it opposite field for the Pads 8th run.  Spangy continues to play some really good ball, doing the little things like single handedly manufacturing a run last night with his bat, legs and heads up playing style, as well as the more obvious things like hitting taters (I know, but I hadn't used that term in a while and thought it might fit there). He's made his presence felt a lot more than his utility role at the beginning of the season might have suggested he would at this point.
The Padres victory for a second night in a row, combined with the Dodgers late inning collapse and loss to the Rockies, now put the Friars in second place 4 games back of the thus far never slumping Dodgers. Their time will come, and the Pads have already survived some challenges, so four games back right now, although not where you want to be in a perfect world,  is nothing to panic about.
Additionally the initial report on Will Myers is that his sore left wrist is only tendinitis. The hope is that a cortisone shot administered today will calm it down in a few days allowing him to get back on the field without a DL stint.  Good news if all goes as planned.
Tomorrow Despaigne gets the ball for the Fathers, with the first pitch scheduled for 7:10.  However, once again rain is in the forecast, so more delays may be in store…which is fine if they bring about the same result as today! Look forward to having you join Uncle Teddy and me for all the action on the Mighty 1090.
Scan