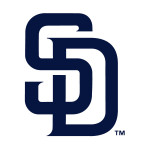 One of the intriguing and sometimes agonizing characteristics about baseball is that a game can be determined in the first at bat, the last at bat, or anywhere in between.   Tonight the die was cast by the first Dodgers hitter that walked to the plate. Although no one knew it at the in the time, it would only take one swing of the bat to give Bolsinger and the Dodgers all the offense they would need for the 2-0 final.
Joc Pederson delivered the game winning hit in game one of the series with a home run in the 8th off Benoit, and stung the Friars again tonight in is first at bat against Kennedy as he hooked a fastball out over into the right field bleachers for a solo HR.
After that Kennedy was solid posting goose eggs until the 6th when he surrendered a 2-out single and a double to plate another run to give L.A. an insurance run that they wouldn't need. Why was it unnecessary? Mike Bollinger.  He was almost quite literally unhittable tonight, as he pitched 8 scoreless frames and surrendered only 1 hit, a lead off single to start the game to Solarte.  He threw a mix of mostly curveballs with some elevated fastballs that the Friars were never able to solve, and retired the last 23 batters he faced in order, 8 by strikeout.
Jansen came on for the save and retired the Friars in order in the 9th to make it 26 up and 26 down after Solarte's lead off single in the first.  The Pads did a lot of things well including Kennedy's excellent starting effort, Quack and Garces posted zeros out of the 'pen, and for the second night in a row Kemp made an excellent defensive play to rob his former club of a run scoring extra base hit, but the offense is simply in a slump.
The boys will try to salvage the final game of the set with Shields going to the hill.  First pitch is at 1:10.  Look forward to you joining Uncle Teddy and myself for the call on the Mighty 1090.
Scan