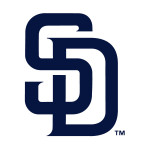 O.D.! O.D.! O.D.! O.D.! Odrisamer Desapaigne was the lead story tonight on a night where there were lots of positive stories to choose from in the Padres 7-1 victory over the Pirates.  Yes there was offense, yes there was power, yes there was defense, but the most intriguing story line in my opinion out of this win that saved the series split with the Buccos was the performance of Despaigne.
Padres fans certainly shouldn't be flabbergasted (yes, that's the first time I believe I used that word in one of these recaps) by a solid pitching performance by one of the Friar starters.  After all, it was the starting rotation that was expected to be the backbone of the club at the start of the season.  However, I doubt many of the Friar Faithful would have guessed it would be Despaigne to be the one to pitch the deepest into a ballgame of any Padres starter as we head into June.  He pitched 8 innings of 1-run ball, essentially shutting down one of the hottest offenses in the N.L. over the past couple of weeks.  Not only was it the longest outing of any Padres starter so far this season, but it was the longest outing of his career.  Not bad for the #6 starter in the rotation coming out of spring.
It's been quite a turnaround for the Cuban who allowed 19 earned runs over a three game stretch at the start of the month, and was looking square in the face of a demotion out of the rotation at a minimum, and possibly worse.  Due to #5 starter Brandon Morrow being on the DL he was granted one more start, and after allowing 2 more runs to cross in the first two batters he faced of that game against the Cubs he all of a sudden found himself. He finished that game strong with 5 scoreless innings the rest of the way.  He then fired another scoreless 6 frames against the Angels in his next outing looking even stronger. Tonight he was even more impressive still, logging 6 more scoreless innings to make it 17 straight before allowing a solo HR in the 7th inning tonight to break the string of goose eggs.
What's been most fun to watch is how he's accomplished this turnaround.  He's stopped trying to trick everyone like he felt he needed to do last season, and started trusting his 91-93 moving fastball.  He challenged all of the hitters tonight with the good ole fashioned #1.  Fastballs located away and in with conviction.  Not as easy an adjustment to make as it sounds, especially when you've had a good level of success throughout your career pitching away from your fastball and relying on off speed stuff and arm angles to try to bamboozle opposing batters. It worked for a few outings last year, but the league quickly figured it out.  Takes guts to change your approach sometimes, and Despaigne has proven once again he has plenty of those.  Of course you probably don't escape your oppressive dictator lead homeland without them.
To go with his exceptional effort on the mound tonight, the offense sounded off early and often.  Solarte got things started with a single, followed by a Norris walk. Kemp then walked to load them for Gyorko who singled into center field to score two, and the Pads were off and running with a 2-0 lead after the 1st. Barmes lead off the 2nd with a single and ended up scoring thanks to a Pirate error to give Despaigne a 3-0 lead, which as mentioned above was already more than enough.  No harm in adding on though, and the Pads did just that in the 3rd thanks to a Kemp single and Middlebrooks 2-run home run into the left field seats to make it 5-0.  Venable then walked and reached second on a wild pitch and was driven in by Barmes's second hit of the night, 6-0 Friars after 3.  Middlebrooks would add the seventh run in the 4th on a sac-fly to cap his 3 RBI night, and give the Pads a commanding 7-0 spread that was more than enough.
Altogether the Padres offense collected 13 hits with Upton and Barmes collecting three safeties each, while Norris and Kemp notched 2 a piece themselves.  Of additional note…
Barmes's 5th inning single was the 900th hit of his career.
Upton extended his hitting streak to 8 consecutive games, and has hit .452 over that stretch.  He's hit .371 over his last 17 games, with 4 HR's, and 13 RBI's over that span.
Middlebrooks has hit safely in 12 of his last 17 games at a .308 clip with 4 HR's.  Tonight was also his 16th multi-hit effort of the season.
Gyorko finished May hitting .281 for the month, and .294 in the games he started.
Norris threw out his 16th attempted base stealer tonight tied for the most in all of MLB with Russell Martin.
Despaigne accomplished another first for the pitching staff tonight when he successfully sacrificed Barmes to second in the 2nd.  It was the first successful sacrifice hit by a Padres starting pitcher all season.  Wonder if he wins another shopping spree?
A solid win for the Friars in every way tonight.  Questions coming out of it include:
With Despaigne's solid outings recently, who leaves the rotation when Morrow presumably returns in 12 days?  It's a long way off, and in baseball roster move terms an eternity as lots can happen between now and then, but one that fans will start to ask.
Is Alonso having now played four rehab games and showing great signs of improvement with his injured shoulder ready to return off the DL, and if so what is the corresponding move? Good chance one of the 8 relievers will be moved but we'll wait and see.
Tomorrow the Mets come in to town and will be greeted by Cashner on the mound. First pitch will be fired at 7:10.  Look forward to you joining Uncle teddy and myself for all the action on the Mighty 1090.
Scan