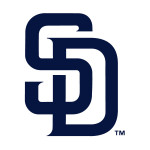 We nearly witnessed history tonight, but not the kind the Padres would want to be a part of.  Instead of coming within four outs of completing a perfect game they narrowly avoided being the victim of a perfecto at the hands of Madison Bumgarner and lost 8-0.
Bumgarner was brilliant in retiring the first 23 batters he faced.  His main weapon was a 92 MPH fastball that he located to near perfection, mostly at the knees and generally away.   He did elevate at times but was unhittable down low, and used his curve and cutter back door more than normal.  It was less an overpowering display and more surgical in it's dominance.
It looked as though he might complete the perfect effort as he started the 8th inning by retiring his toughest personal challenge in the Friars lineup in Justin Upton, who had hit him to the tune of .364.  With two outs in the 8th another Upton would get a chance, but Melvin was a lifetime 0-10 against the lefty.  Combine that with coming off the bench and his chances looked slim, but a 2-1 fastball intended inside that wasn't in enough was lined into center field to break up the pursuit of perfection.
That Upton, Jr. single would end up being the only blemish on the night for Bumgarner as he finished with a one hitter.
Kennedy on the other hand didn't have his best fastball command tonight and was chased in the 5th after he allowed seven runs to score.
With the win the Giants clinched a series win. Tomorrow the Friars will look to salvage the last game of the set and will give the ball to the youngster Colin Rea.  First pitch will be fired at 1:05 and Uncle Teddy and I will look forward to having you join us on the Mighty 1090.
Scan