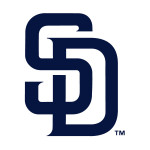 Tonight was fun – a 10-3 blowout in favor of the Padres over the Diamondbacks. A good night for the fellas and an unforgettable one for a pair of Pads who made their MLB debuts.
The Friars wasted no time giving Shields a big lead to work with. Myers lead off with home run, followed by Solarte, Kemp and Upton all reaching base and ultimately scoring on hits by Spangenberg and Norris to put five runs up on the board in the 1st.
Shields was not particularly sharp in the 1st and allowed pair of doubles to score a run.  After that though he just got stronger and stronger as the game went on.  With a big lead to work with he threw enough strikes with his fastball and found the feel of his curve, change, and slider to keep the snakes tamed. In fact he retired the last 12 batter she faced in a row.  There was one scary moment though as with two outs in the 7th he was hit by a line drive on his pitching arm.  He stayed in and finished the 7th for his final inning of work having allowed only the one run.  Hopefully nothing serious and nothing that affects his next start.
The Padres blew it open in the 5th with another 5 run outburst. Kemp, Upton, and Gyorko all reached base to set the stage for Spangenberg's double that scored two, and later a Myers triple that cleared the bases that were juiced.  At that point it was official that oaths evening the Pads had flat out boat raced the snakes.
The only thing left was to see if some of the new players called up today might get into the game.  Robbie Erlin and Casey Kelly were recalled, and the contracts of Jay Jackson and Cody Decker were purchased now that El Paso's season was officially over.  Decker, who has a cult following amongst Padres fans who've followed him in the minors the past seven years, was called upon two pinch hit in the 9th.  He ended up popping out, but it did not seem to take away from the enthusiasm of the crowd of family and friends who were chanting his name int elater innings of theme, and cheering him on.
In the 9th it was Jackson's turn to be christened.  He was rudely greeted with three straight hits and two runs crossing, but he then recorded his first two MLB outs before Murphy wine and got him.  Not the results either rookie was looking for, but they cannot say they were big leaguers for the rest of their lives.
Tomorrow, Ross will go to the mound for the Friars with the first pitch scheduled to cross the plate 6:40. Ted Leitner and I can't wait for you to join us for all the action on the Mighty 1090!
Scan