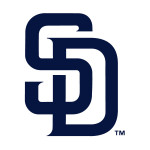 A new opponent in town, but the same result for the Padres as they dropped the series opener with the Rockies 6-4.
Kennedy was not sharp early and allowed a lead off double followed by a triple to set p a 2-run deficit in the first.  The mad Friars fought back right away, though, and it was their hottest hitter of the second half, Matt Kemp, doing the damage once again.  With Solarte on base via a double, Kemp hit a line drive over the left field wall to tie it up 2-2.  It was his 11th HR of the second half and 43rd and 44th RBIs placing him 4th in all MLB in that category since the break.
Unfortunately it was one of those "he giveth, and he taketh away" days for Kemp.  In the third inning Kennedy again found himself in trouble after he allowed a single, single, double to lead things off which plated a run and put runners at 2nd and 3rd.  He battled fiercely and struck out the next two batters and was an out away from stranding them.  He missed his pitch location to Descalso who hit the ball deep to right field, but it was catchable as Kemp raced back and fought the sun but had the ball hit off the heal of his glove as he leapt.  Instead of the third out being in the pocket of his mitt two runs scored on the error and the Pads were playing catch up to the tune of 5-2.
The next inning the pitcher Kendricks hit his first career homer, a shot into the second deck of the Western Metal building, to help himself and put the Rocks up 6-2.
As always the Friars fought back with a  run in the 4th on Gyorko's run scoring double.  The inning was cut short when Norris was doubled off first on a line drive back to the pitcher.  They chipped away again in the 6th when sinlges by Upton, Norris, and Spangenberg in conjunction with a Rocky error pushed another run across to make it a 6-4 contest.
Norris doubled in the 8th which brought the potential tying run to the plate, but the Pads couldn't follow through against one of the most porous bullpens in baseball, and that was the last threat as they went down in defeat for the fourth game in a row.
Costly defensive and base running errors seem to be a theme for the Padres of late.  One that needs to end for the Fathers to end the last 24 contests of the season on a positive note.
Collin Rea will go for his 3rd MLB victory tomorrow as he fires the first pitch at 7:10.  Look forward to you joining Uncle Teddy and me for the call of all the action on the mighty 1090.
Scan