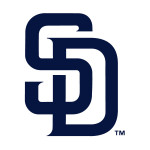 The Padres busted out their thumpin' sticks tonight and for the second night in a row took down the Rockies, this time by a score of 11-4.  In total they racked up 18 hits, including 2 home runs in securing Shields' 11th win of the season.
The evening did not start out so smoothly for James, as he allowed two runs to cross on four hits in the first frame.  Like the outing before he did not have great fastball command, and struggled the early innings of the evening trying to find some combination of pitches he could depend on.  Ultimately it looked to be his curve ball that finally showed up and helped him stay out of big trouble.  However, it was a hanging curve that was sent over the fence in the 4th to complete the four-run damage he would allow over six innings of work.  In general though, the curve and changeup helped him stay off the Rockies' bat barrels more often than not.
Fortunately Shields was going to get plenty of run support tonight.  It started in the 1st with Kemp's 20th long ball of the season, to extend his active streak of reaching base successfully to a N.L. leading 29. It was a very relaxed, easy stroke that launched the ball to the deepest part of the park and into the beach in right center.  His 91 RBI's now rank 3rd in the N.L. and 9th in MLB.
The Pads got some help from the Rocks in the 2nd as a bases loaded walk to Shields forced in the game tying run.  Then in the 4th the Fathers took control, with the big shot being Gyorko's three run blast to highlight a four run inning to put the Pads on top 6-2.  They would never look back.
More damage was inflicted on the Rocks pitching staff in the 6th with singles by Spangenberg, Dickerson (in his first appearance since his September call up), Myers (three hits on the night), and Soalrte to plate three more runs for the Pads.  The 7th inning also featured a rally, this time started by Barmes but contributed to once again by Myers and Solarte (also a three hit evening) to put two more up on the board to finish the eleven run hit parade.
All in all a very good night for the boys. Tomorrow they will play the make up game for the rainout that took place on July 19th.  Ross will get the pelota ("ball" for our non Spanish speaking friends) and fire it for the first pitch at 12:40.  Can't wait to bring you the action along with the voice of the Padres, Ted Leitner, on the Mighty 1090!
Scan