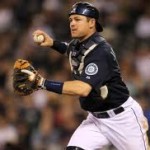 The Padres just released a press announcement that they have traded for catcher Rob Johnson from the Seattle Mariners in exchange for a player to be named or cash considerations.
Johnson, 28, had been designated for assignment by the Mariners last week, to make room on their 40 man roster for Jack Cust.  Seattle had 10 days to trade, release or send Johnosn to AAA – they found a trade partner in the padres.
Johnson, who started the season last year as the Mariners #1 catcher, appeared in 61 games for the Mariners, hitting .191 (34-for-178) with 10 doubles, two home runs, 13 RBI and 24 runs scored.  He started 57 games behind the plate for Seattle, throwing out 12 of 34 would-be base stealers.  Originally signed by the Mariners as a fourth-round selection in the 2004 First-Year Player Draft, Johnson has hit .200 (94-for-470) with 29 doubles, two triples, five home runs, 42 RBI and 48 runs scored in 161 Major League games over parts of four seasons (2007-10).
In previous years Johnson had generally been regarded as a strong defensive catcher (although there were some who would debate that evaluation).  However,  following two hip surgeries, and a wrist surgery following 2009, some evaluators felt those skills wained last year.  The Padres are apparently hoping that an additional year of recovery from those procedures will help Jonson for 2011.
With the addition of Johnson, the Padres now have 38 players on their 40 man roster.
Scan
With today's transaction the Padres currently have 38 players on their 40-man roster.