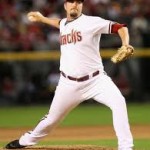 Corey Brock, who does a great job covering Padres for MLB.com, is reporting that Pads are close to signing right handed reliever Chad Qualls to help out their bullpen.
Qualls was 3-4 with a 7.32 in 70 games split between the D-Backs and Rays last year.  Lifetime the 32 year old is 32-26 with a 3.82.
If Pads sign him, it would presumably be to fill the void created when right handers Adam Russell, Edward Mujica, and Ryan Webb were traded earlier this off season.  He made $4.185M last season.  In 2009 he went 2-2, with a 3.63 in 51 games for the snakes.
Scan