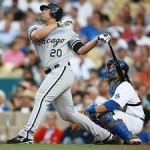 Padres' GM Josh Byrnes continued his reshaping of the organization Saturday when he obtained veteran outfielder Carlos Quentin from the Chicago White Sox for minor league pitchers right-hander Simon Castro, and lefty Pedro Martinez.  Last season the right hand hitting Quentin batted .254 with 24 HR, and 77 RBI, along with a carer high 31 doubles.
If you are a Padres fan it's hard not to like this deal.  Why?
MLB Proven Talent Added: The Padres offense just got better.  Quentin has a track record of being able to hit home runs against MLB pitching, with 20+ HR's in each of the past 4 seasons.
Right Handed Power In PETCO:  Since the Padres first moved to PETCO Park in 2004, they have not had an established right handed power hitter in their lineup who's power was to right field.  Much has been made about this ballpark being a death sentence for power hitters, but I think this has been largely overplayed.  Yes, the park is going to take away some HR's on balls hit to the right-center field gap, and in general will reduce power numbers of your average batter because of the heavy, cool ocean air that takes over the atmosphere after batting practice.  However, above average, right handed power hitters that can drive the ball from the left field foul line to center field have shown the park is assailable. Quentin could finally prove that HR's can be hit from the right side by someone wearing the home whites.
Solid Home and Road:  Although as mentioned above I don't think he will have trouble hitting for power at PETCO, he has put up similar power numbers on the road as well as home, so he should be a factor in every venue.
Domino Effect: His presence in the middle of the lineup allows someone else to hit in a more suitable spot as well.  So often in recent years the Padres have been forced to put guys in positions in the lineup where they don't belong.  Not only does this usually result in underproduction in that spot in the lineup, but also because the player is trying to do more than he can, or be something he is not, he underperforms even by his own normal standards.
Little Cost:  Padres did not part with any players who they viewed as making an impact in the short run.  Additionally they dealt from their minor league strength right now which is pitching.  Erlin, Weiland, and Kelley were all considered ahead of Castro on the organizational depth chart.
Short Term Affordable Commitment: Quentin is in his last year of arbitration and is projected to earn about $6M-$7M this season (same as Ludwick last year).  Next year he will be a free agent, so Pads are not financially on the hook for anything long term.  If the Pads like what they see they can choose to offer an extension for his services.
Movable Chips:  With the addition of an everyday proven corner outfielder, the Pads could potentially move some of their unproven commodities in another deal, or at a minimum give them more time to develop.  This is a business and the more assets you have the more leverage and options you have, and the Pads just added another positive to the asset column.  Additionally should Quentin have a  solid season and the team find themselves out of contention at the trade deadline, they could likely move Quentin to a contending club and get a piece back.  They would probably not get as much in return as they would have prior the the recent changes in the new CBA, but something none the less depending on how productive he is.
Are there risks? Of course.
Injuries: Quentin has missed playing time with various injuries almost every season and has yet to post 500 at bats in a single campaign.  Hopefully the warmer San Diego weather, and the Padres' top notch training staff can help him to avoid DL time.
League Adjustment: I've always felt it was generally easier for pitchers to be quickly successful when switching leagues than for hitters simply because it usually takes batters a few looks at a pitcher to get his release point, and pitch action logged into his memory bank.  However, it took Quentin no time at all to adjust when he went from AZ to CHI in 2008, as he hit .302 with 7 hr's and 21 RBI his first month in the A.L.
PETCO: Yes, I did mention above that the park should NOT be a significant factor for the right handed pull hitter, but guys respond to each park differently, and a batter's feel and comfort in picking up the ball in the backdrop can vary from park to park.  He's hit .053 so far in his career at his new home venue, but that includes only 23 plate appearances back win he was just getting his feet wet in the big leagues.
Defense:  He has not been recognized as a particularly strong defensive player by scouts.  However, he's not being asked to be a gold glover for the Pads covering left field. Just be decent, and provide that power threat in the middle of the lineup.
As I watch Byrnes make his first moves and start to put his fingerprints on the organization, I am struck by two impressions. First, as the Latos deal clearly signaled, he is intent on adding depth to the organization and is not afraid to make bold deals. Second, from this move I see the manifestation of what he told me was one of his greatest lessons learned from his experience as the GM of the Diamondbacks for 4+ seasons – that no matter what your team's strength is, if you don't address your weakness it can become overwhelming and take down your whole team.  He addressed the Pads debilitating weakness from last year, by adding what should be some experienced right handed pop to the lineup.
I'm looking forward to the Padres' next move in this continuing organizational makeover.
Scan