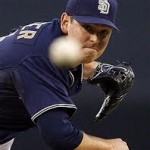 Tim Stauffer appears to have had a very successful rehab start tonight, throwing 7 scoreless innings for Lake Elsinore.
 In what is being anticipated to be his final minor league outing outing he allowed 3 hits, while striking out 5 and walking none while throwing 78 pitches.
Assuming there are no ill side affects to his strained elbow from tonight's outing in the days to come, it is likely that Stauffer would be reactivated of the disabled list during the upcoming road trip, with his next scheduled 5th day being Monday in Washington.
Scan