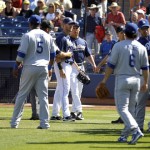 The bad blood between the Padres and Dodgers is as petulant as ever.
It's only spring training and the tension between these two teams was palpable, and finally boiled over in the 6th of yesterday's ball game between the long standing rivals.
Apparently some hard feelings already existed with the Padres over Cameron Maybin getting hit by a Jonathan Broxton pitch during their 4 run attack against the Dodger reliever two weeks earlier in a 8-2 Padres victory.  Then, in the bottom of the 5th of yesterday's game more fuel was added to the fire when Broxton hit Ryan Ludwick in the left elbow.  Ludwick stayed in the game, but the heated words started flying from the Padres dugout.  Then in the top of the 6th with 2 out, it was more than just words that were flying.  Padres reliever Brad Brach's first pitch to Rafael Furcal smoked him square in the back.  It was a perfectly executed a purpose pitch – 2 out, no one on base, first pitch right at him, with no intent to head hunt. Well played, young Brach!  You definitely earned the respect of your teammates.
The message was effectively sent, and well within the guidelines of baseball etiquette.  Warnings were issued, with some pleasantries exchanged between Buudy Black and the umpiring crew.  At the end of the inning, as he came in from left field, Ludwick made a point to share a few choice words with the Dodger dugout, and the benches started to clear.  No punches were thrown, but a lot of posturing was going on, and as both bullpens eventually made their way to the home plate area, I could have sworn I heard the tone of a boxing ring bell – DING!
As the umpires/referees kept the fighters to their corners, I couldn't help but to think of that scene in Rocky where after the bell sounds to end the second round, Balboa wants to keep beating Apollo Creed.  Both fighters trying to get at each other, with both corners flooding into the ring to control their man, as each tries to intimidate the other.  You know it's time to buckle your seat belt for 13 more rounds of stinging jabs to the face, and punishing body blows to the ribs.
Round two is over in this match up between these long time inter division rivals. No knock out punches have been landed, but now I'm set to watch these two storied adversaries go toe to toe for the rest of the season.
Not bad for a late spring training game…and maybe not the worst thing to help bring a team full of new faces closer together as the season opener approaches.
Scan