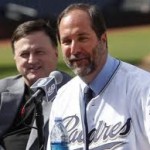 Jeff Moorad and his investment group are soon to complete their purchase of the Padres from John Moores, according to MLB.com writer Barry Bloom (article here).
On Thursday the MLB owners will have their first quarterly meeting of the year, and expected to be on the agenda is the vote by the other 29 owners to approve the final sale.  MLB rules dictate that a minimum of 75% of the existing owners must approve of the new ownership group for the sale to be complete.
If this report is accurate, and the sale is approved as expected, it would mark a significant moment for the organization and the future of Padres baseball.  Immedaite impacts would include:
Clarity on the direction of the team, and the freedom and incentive for the new group to move the organization in the direction they envision.
Presumably the freeing of MLB to publicly approve the new FOX TV deal that has reportedly been in place for months.  I would expect that the approval for the Pads new TV deal will come shortly after the owners approval of the sale, giving everyone involved in the production of the Padres game broadcasts the ability to more freely move forward in getting their production and sales teams in place.  It will also reportedly provide a significant boost in the annual TV revenues, which is expected to ultimately be directed towards player payroll.
The freeing of the Padres new ownership group to invest more aggressively in the team on the field.  With the team having two different ownership interests over the past couple of seasons, it created financial disincentives and uncertainties to openly and aggressively invest in the team on the field, especially in terms of long term contracts.  Fortunately, in spite of those obvious hurdles, the baseball operations department continued to invest in the minor league system and therefore the future health of the team on the field.  Now, with the probable consolidation of the ownership of the Padres exclusively to Moorad and his group, there should be greater ability and incentive to expand the player payroll.
Congratulations to Jeff Moorad and his group for what is anticipated to be the successful completion of the sale that started in 2009!  The Padres organization and the city of San Diego have much to thank John Moores for during his near 17 year ownership reign.  Hopefully the completion of this transfer will mark the start of an era of Padres baseball that will bring a long overdo and much deserved championship to the organization, the city of San Diego, and the Padres faithful!
Scan