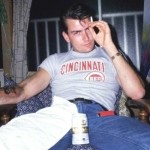 It was absolutely fascinating to watch.  As close to 35,000 fans eagerly entered Petco Park on a Saturday night to watch the Padres host the Reds, and get the highly coveted annual Padres Beach Towel giveaway, there was actually more buzz, and idol worship going on behind the batting cage than in the stands.
It's always a beehive of activity, excitement, and anticipation behind the batting cage before the game.  Of course, there was the usual collection of world class major league athletes from both teams readying themselves for the game, and socializing before the cry of "Play Ball!" would once again pit them against one another.  Fans were earnestly pleading for autographs or a photo pose.  The Padres staff as they do so well was diligently scurrying around attending to, preparing, and organizing the pre-game festivities including the color guard, National Anthem guest crooner, first pitch honorees, wounded warriors that were invited to be on the field in thanks for their service to our country, and other local dignitaries and special guests of the organization for the day.
All was normal until an animated, impish figure wearing board shorts, a hoody, and his signature dark sunglasses, and a straw fedora took over the scene without even trying.  It was none other than Hollywood bad boy Charlie Sheen.
Apparently he was there to hang out and mug with his favorite MLB team, the Cincinnati Reds.  His connection with that team took on a new zeal in 1990 after a party experience with the ball club that year, but his lifetime field pass was earned during the follow up soiree in 1992 which he readily admits ranks as one of his best party experiences ever.  When asked last year for the greatest party he had ever been a part of Sheen responded, "Cincinnati Reds party for sure … It was epic. It was radical and they still talk about it to this day – 21 years later. Lou Piniella – my man!"   Sheen being able to single out just one of his infamous all night benders is akin to Hugh Heffner being able to single out one of his Playmate conquests as being the most memorable.
At first Sheen's presence on the field for me was surprising, and seemed strange.  I don't think I was the only one initially feeling that way as he seemed to be hanging mostly with two other celebrity friends that he arrived with, and one or two Reds players who stopped, or who he stopped to say hello.  It just felt uncomfortable and out of place, to me, for him to be so publicly and brazenly prancing around this family venue as though it was the set for one of his shows.
I'm not a social prude by any means, and as a former player my halo has tipped more times than I'd care to admit.  However Sheen's rap sheet would make most players blush.  Along with is recent and less heinous, yet still insulting, rants ripping his bosses, and making strange self absorbed and self-aggrandizing statements which finally got him fired from his TV show, and understandably generally ostracized as being a lunatic, while in his mind still "winning", his rap sheet includes but is not limited to:
Shooting his then fiancé in the arm (reportedly on accident).
Admitted under oath that he was frequent buyer of prostitutes, followed by multiple stories coming out since his court appearance suggesting similar activities are still on going.
Arrested for allegedly beating his porn star girlfriend, and threatening to kill her.
Restraining order set against him for physically handling and threatening his second wife while she was holding their daughter.
Arrested and pleads guilty for domestic violence against his third wife.
Destroyed a hotel room, causing over $7K in damages.
Sued by adult film star for choking her.
More restraining orders, this time to stay away from his third wife and their twins.
The obligatory multiple stints in rehab for drug and alcohol abuse.
The also obligatory multiple trips to the hospital for strange incidents, which are immediately followed by more substance rehab.
Other than that, this is just the guy to have prowling around the center stage of a family friendly event.  Strangely, despite the apparent initial reticence to be near him because of his recent public disregard for any self restraint, or respect for the law, women, employers, the fans who made him wealthy, or the talent he's been undeniably blessed with, within a short period of time he was the bell of the ball.  Everyone it seemed wanted to be with Charlie Sheen!
Fans wanted autographs, players wanted to shake hands and take photos, and even the umpires were posing for pictures with him.  It wasn't long before he was wearing a Padres jersey and cap and was throwing out the first pitch.  A regular American hero, with everyone no doubt jockying to be on the guest list to his next party.
I won't go so far as to say it was as bizarre as O.J. Simpson being invited to talk with the USC football team shortly after his acquittal for murder, but observing the scene play out did cause me to pause and take note, and reflect.
With wounded warriors invited to be on the field for pre-game festivities as well, I wondered what their thoughts were watching this circus act take place.  Was it at all insulting to them to see players and fans fawn over this self absorbed, self indulgent, ungrateful public figure, while they sat in their wheel chairs or propped themselves up on their crutches with wounds received defending our country, our rights, and our freedom while honoring a set of values which are the antithesis of Mr. Sheens?  I don't know the answer to that.  For all I know maybe they were as infatuated with him as many others appeared to be.
What I do know is that the incident did jolt me into reflecting on what values our society seems to promote and reward.  In no way am I trying to sound sanctimonious, as I have fallen well short of being a shining example of integrity many times in my own life, for which I am not proud.  However, Sheen's display at the ball park did serve as a bold reminder to me of what values I want to be reinforcing with my own kids, and the constant pressure from society for us to be enticed by the cult of personality, and seduced by false idols.
Thank goodness just a couple nights earlier Bill Walton, who has spent lifetime giving his time, talent, and treasure to assist a multitude of charitable causes and make the world a better place for all, was invited to throw out the first pitch, and made his rounds throughout the stadium.  Great model of humility, dignity, and generosity to pay attention to… I hope someone took a moment to take a picture with him.
Scan