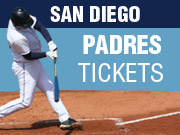 Yonder Alonso reached base safely in eight consecutive plate appearance spanning from his first plate appearance Saturday to his fourth plate appearance Sunday…this was the longest such streak by a Padres player since who?
Answer to today's question will be revealed with our next challenge.
Our last question: What are the most RBI in a game for a Padres player? Answer: Both Nate Colbert (Aug. 1, 1972 game 2), and Ken Caminiti (sept. 19, 1995) drove in 8 runs in a ballgame.
Congratulations there were 9 correct answers, and those correct respondents were eligible for last month's random drawing.
All the correct answers to today's trivia challenge that are submitted here before the answer is given in the next day's question will become eligible to win their choice of either 2 tickets to a Padres game.  The more Trivia Challenges you answer correctly, the more chances you have to win! Random drawing for this month's winner will be held June 1st, and winner will be announced on this website.
Thanks for playing along, and good luck!
Scan