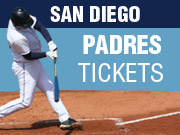 Which Padres pitcher held opposing right handed batters to a .122 batting average last season- 2nd lowest in the N.L.?
Answer to today's question will be revealed with our next challenge.
Answer to our last question:  In the history of the organization, what is the most number of batters that the Padres have sent to the plate in a single regular season inning? Answer:  On May 31, 1994 the Padres sent 17 batters to the plate in the 2nd inning against the Pittsburgh Pirates.
Congratulations, there were 2 correct answers to yesterday's question, and those 2 are now eligible to win 2 tickets to a Padres game this season.  This month's winner will be randomly selected at the end of the month.
All the correct answers to today's trivia challenge that are submitted here before the answer is given in the next day's question will become eligible to win 2 tickets to a Padres game!  The more Trivia Challenges you answer correctly, the more chances you have to win! Random drawing for this month's winner will be held April 1st, and winner will be announced on this website.  
Thanks for playing along, and good luck!
Scan