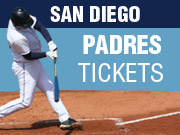 Everyone seemed to have some fun with our last question about Padres uniforms, so let's do it again for the weekend.  Which Padres player wears the longest uniform pants? Hint…again it's not Alexi Amarista!
Answer to today's question will be revealed with our next challenge.
Answer to our last question:  There have been three pitchers in Padres history who have made 4 opening day starts, but only one made all 4 of those starts in consecutive years. Who is it?  Answer:  Jake Peavy was the opening day starter 2006-2009, making him the only starter in Padres history to pitch four openers in a row.  Randy Jones, and Andy Bennis also pitched four openers in their Padres careers, but not consecutively.
Congratulations, there were 10 correct answers to yesterday's question, and those 10 are now eligible to win 2 tickets to a Padres game this season.  This month's winner will be randomly selected at the end of the month.
All the correct answers to today's trivia challenge that are submitted here before the answer is given in the next day's question will become eligible to win 2 tickets to a Padres game!  The more Trivia Challenges you answer correctly, the more chances you have to win! Random drawing for this month's winner will be held April 1st, and winner will be announced on this website.  
Thanks for playing along, and good luck!
Scan