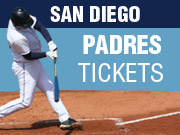 With the exciting win yesterday over the Dodgers on opening day, I thought I would give you a related question. Before last night when was the last time the Padres beat the Dodgers on opening day? And since I was not clear when this question was posted early, I will accept answers for both the season opener and/or home opener (the more winners the better)…as long as the Padres are beating L.A. !
Answer to today's question will be revealed with our next challenge.
Answer to our last question:  What was most significant about MLB opening day 1947? Answer:  Jackie Robinson made his MLB debut breaking forever baseball's despicable color barrier.
Congratulations, there were 12 correct answers, and those 12 will become eligible for this month's drawing.  This month's winner will be randomly selected at the end of the month.
All the correct answers to today's trivia challenge that are submitted here before the answer is given in the next day's question will become eligible to win 2 tickets to a Padres game!  The more Trivia Challenges you answer correctly, the more chances you have to win! Random drawing for this month's winner will be held April 1st, and winner will be announced on this website.
Thanks for playing along, and good luck!
Scan