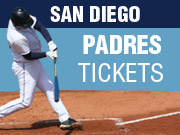 In celebration of Passover that started yesterday for our Jewish friends, I pose this question.  For the first time ever there are currently two Jewish managers in MLB at the same time.  Who are they?
Answer to today's question will be revealed with our next challenge.
Our last question: With Andrew Cashner throwing a 1-hit shutout last night, I was wondering who was the last Padres pitcher prior to tonight to throw a 1-hit shutout at Petco? Answer:  On July 19, 2012 Edinson Volquez threw a 1-hit shutout against the Astros.  The no-hitter ended in the fourth inning, and the Pads won 1-0.
Congratulations there were 14 correct answers, and those correct respondents are now eligible for this month's random drawing.
All the correct answers to today's trivia challenge that are submitted here before the answer is given in the next day's question will become eligible to win their choice of either 2 tickets to a Padres game, or some other Padres related item.  The more Trivia Challenges you answer correctly, the more chances you have to win! Random drawing for this month's winner will be held May 1st, and winner will be announced on this website.
Thanks for playing along, and good luck!
Scan