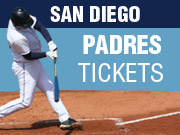 Well, it's the start of a new month, so let's start building our pool of eligible candidates to give away some more free, cool Padres stuff!  It may be tickets being given away this month, or it may be something else…not sure yet as there have been requests from Padres fans from out of state to be able to win something they can enjoy as well.  That's understandable, and I appreciate their interest in participating as well.  So, moving forward let's make it so you can take either the tickets which will be offered each month, or some sort of Padres item or piece of memorabilia (t-shirt, hat, ball, autographed item, etc).  Sound good?  Ready?  Let's do it!
Seth Smith was the 40th Padres player since 1974 (the year they started tracking such data), to hit a HR as his first hit with the club.  However, it was only the second Opening Day pinch-hit HR in Padres history. Who hit the first?
Answer to today's question will be revealed with our next challenge.
Our last question:  When was the last time the Padres beat the Dodgers on opening day (either season opener, or home opener was acceptable)? Answer:  The last home opener that the Padres took down the Dodgers was last year when they beat the boys in blue 9-3.  The last time they defeated them in a season opener was in 2004, taking them down 8-2 at Chavez Ravine.
Congratulations, there were 24 correct answers, and they are now eligible for this month's drawing!
All the correct answers to today's trivia challenge that are submitted here before the answer is given in the next day's question will become eligible to win their choice of either 2 tickets to a Padres game, or some other Padres related item.  The more Trivia Challenges you answer correctly, the more chances you have to win! Random drawing for this month's winner will be held May 1st, and winner will be announced on this website.
Thanks for playing along, and good luck!
Scan