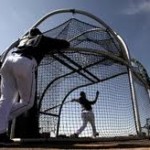 First day of full squad workouts!  60 guys now in camp: 29 pitchers, 7 catchers, 14 infielders, and 10 outfielders.  25 of the 60 in camp will break with the big league club; the rest will be reassigned or released.
 The truth of the matter is there are only a couple of spots open on the opening day 25-man roster for competition, assuming everyone stays healthy.  That doesn't mean that each guy doesn't have something to prove, or something to strive for for the next 5 weeks.  Whether it's for one of those few remaining 25-man spots, a starting position on the AAA or AA roster, showing the organization your the first guy that should be called up when an opportunity arises, proving yourself to your new organization, hanging on for one more year at the end of a career, or taking your MLB career to the next level, everyone has something they are trying to accomplish.
Although many of the position players had already been in camp taking some batting practice, it was the first day for them to take what they had been working on during the off season and apply it on a more public stage.  I had a chance to watch 15 guys take BP today, most of whom will break camp with the big league club.  Here are some of the things that stood out for me on the first day workouts.
NOTICEABLE CHANGE: Will Venable – From his very first swing in the cage, something looked different.  After his second swing I could tell what it was – a quieter, cleaner, quicker approach to the ball.  Most notable to me, from my pitcher's perspective of analyzing a hitter's mechanics, was his quick compact stride, and balance throughout the entire swing on the ball.  Only time will tell how this translates into game action, but from simply a pitcher's perspective I see a guy who is allowing himself to stay on the ball better by giving himself more time to react, and a steadier head to see the ball.  Anyone who has watched Will play the past few years generally agrees that there is a lot more production inside waiting to come out, and everyone is hoping this is the year it fully emerges.  A quieter, and consistent attack on the ball could be one of the keys that unlocks his potentially difference making athleticism at the plate.
MATURITY SHOWING?: Everth Cabrera – 3 years ago I thought this guys was the goods.  Yes he was making the jump from A-ball to the big leagues, and transitioning from 2B to SS, but his athleticism outplayed his inexperience, and despite fatiguing the last month (he played the last 90+ games of the season straight), I thought the Pads had their SS for the next 5 years.  Injuries and possibly some overwork on his part contributed to a disappointing sophomore year and a trip back to the minors.  Now with a couple more years of seasoning this could be his time to reemerge as a contributor to the parent club.  What I liked about his BP session today was that from both of sides of the plate he hit hard line drives either up the middle or opposite field.  In fact, during his entire session I can only remember one ball being hit that was more than 10 feet above the ground.  It tells me he understands who he is as a hitter, and what he needs to do at the plate to best help his club.  If he can once again be a viable option at the middle infield positions that will give the club and Buddy some much needed depth and versatility.
NICE TO MEET YOU: Yonder Alonso – Dude has an idea what he's doing at the dish.  Ever since the trade for Mat Latos that brought him to the Padres I've been hearing about how he can put together great at bats, and how his style of hitting will play well at Petco, and now I see why.  Calm, quiet approach to the ball, with consistently squared up contact that produced line drive after line drive up the middle and to left.  Sure it's only BP on day 1, but one of the many things I learned from Greg Maddux is that there is a lot that can be learned from watching guys take batting practice since how they address the ball in the cage is often the same in the game, and a quiet approach and the ability to keep the hands inside the ball is a good place for any batter to start.  Can't wait to see him against live pitching.
Other guys that for me looked solid on day 1 included Jesus Guzman, who showed great plate strategy and ability to execute in his first chance to hit MLB pitching last year, and a couple of backstops who've had the benefit of hitting the past week and hit lots of hard line drives today, Yosmani Grandal and John Baker.  Oh, and it can't go without being noted that Orlando Hudson is in mid season form with his on field chatter – "C'mon young buck!", 'That away big Kid!", "Man, this is the big leagues now, why you swinging' that high school wood bat?", etc., etc. Yes the O-Dawg is ready for 2012.
Two final notes on this day:
First, team owner and CEO Jeff Moorad made an appearance on the first day of camp and addressed the club.  One of the points he stressed was for the players not to forget nor under appreciate the over 80 years of professional baseball tradition and history that exists in San Diego.  The organization does not take that history lightly, and has made an effort to reconnect with it through the refashioning of the uniforms this year to reflect a more traditional look, and community outreach programs including free Padres jerseys to any San Diego little league program that wants them.  Nice show of leadership for Mr. Moorad to talk to the team – something that doesn't happen in every clubhouse.
Second, I was outside the clubhouse after practice and noticed some writing embroidered on the back of one of the player's pair of shoes. On the left shoe it said "THANKS", and on the right shoe it said "TROOPS"… underneath that the number 24.  Nice touch, Cameron Maybin!
Looking forward to what tomorrow's day on the spring training fields brings.
Scan