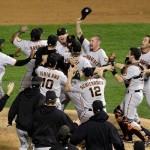 Congratulations to the San Francisco Giants for taking their first World Series Championship since moving to the Bay Area in 1958.  They beat the Texas Rangers completely and convincingly.   They out pitched, out hit, out defended, and out maneuvered their A.L. opponent.
Regardless of what team you cheer for during the regular season, it is hard to deny that the Giants were not the epitome of a the age old axioms of pitching, and unselfish team play do win games.
The Giants lineup for the final game of the series featured not a single superstar, and only two players (2B Freddy Sanchez and 1B Aubrey Huff) who were nightly write-ins on manager Bruce Bochy's line up card from opening day.  The addition of Buster Posey, Pat Burrell, and Cody Ross during the year helped produce timely hits, and more power than any other NL team in the second half of the season.
What they lacked in star power at the plate they more than made up for with talent on the mound.  Lincecum, Cain, and Bumgarner flat out out-pitched their Ranger counterparts, with Lincecum further adding to his legend by conquering the post season Goliath, Cliff Lee.  With Fear the Beard Wilson, Casilla, and Lopez anchoring the bullpen, it was lights out for heart the Texas batting order which had previously pummeled every other post-season opponent.
While the Giants out played the Rangers on the field, they were also out maneuvered from the dugout.  Bruce Bochy, who in my opinion has always been one the best pitching staff tacticians in the game, pushed all the right buttons not only with his staff, but with as lineup and matchup decisions as well.  Despite the public backing of his players, Ron Washington's inexperience was spotlighted by multiple and costly miscues.
All in all, it was a series victory for the Giants that left no doubt as to who played the better baseball from beginning to end, and in every aspect of the game.
Congratulations to Bochy, Tim Flannery, and the rest of the Giants staff, front office, and players for completing one of the toughest tests of physical and mental endurance in all of professional sports – winning the MLB World Series Championship.
Scan