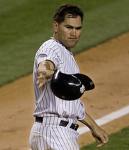 The list of players and their representatives who have misjudged this year's free agent market continues to grow. The latest victim of a self inflicted financial and career wound is Yorvit Torrealba, who just signed a 1-year deal with the Padres for a reported $750K (with a second year mutual option and buyout), after turning down a 2 year $4.5M guaranteed contract to return to the Rockies.  Torrealba figured his .291 batting average in 64 games was worth more than the Rockies offer, but while he futilely shopped himself around to the Mets, the Rocks signed Miguel Olivo, leaving Torrealba left with nothing.  Good news for Pads who were in the market for a backup to Nick Hundley, and were able to scoop Torrealba up for far less than Colorado was willing to pay.   Instead of returning to the team he went to the playoffs with and for a nice raise, he ends up with less money on a team who will be challenged to make the post season.
He is not the only player to do this to himself.  Adam Laroche turned down a 2-year, $17.5M offer from San Francisco so that he could join Arizona for 1 year at $5M.  Maybe he just didn't want to play in cold San Francisco.  But why is Russell Branyan (31 HR's) still homeless for 2011.  And did Jason Bay really end up where he wanted to be?  He and his reps appear to save face by signing with the Mets for $6M more than the Red Sox offered, but everyone knows returning to Beantown was his first choice.
The poster child this off-season is Johnny Damon.  Could he and his agent have handled his free agency this season any worse?  He wanted to return to the Yankees, and the Yankees were reported to have wanted him back  for 2 years and $14M, but he and his representative turned it down seemingly insulted by the offer.  Later, he was reportedly offered 1-year deal at $6M by the Yankees, and he again turned the other way.  Now his agent is scrambling to manufacture interest amongst the Tigers and Braves.  It remains to be seen how the story ends, but the early chapters of this book paint an ugly picture of greed, and miscalculation by Damon and his infamous agent (whose name will hopefully never be mentioned on this blog).
So who is to blame?  Clearly both the player and the agent share culpability.  However, in these cases, without knowing intimate specifics of each negotiation, I generally put the onus on the agents.  Why?  There are basically two reason why most players hire an agent.
1. Players don't want to spend any time or energy on something that could possibly take away from their ability to be completely prepared and keenly focused in performing their craft.
2. They want someone who's profession and specialty it is to know the market conditions globally, within the industry, and as it pertains to their unique market so as to provide guidance and skill in negotiating salary contracts, and other professional needs.
There are other reason as well, but those are the main two.  Clearly in many of the cases we are seeing, and glaringly in the Damon debacle, that educated insight, self control, and wisdom were lacking on the part of the agents hired to provide such guidance in just such an environment that exists in 2010.  In some cases the livelihoods of families may be affected, hopefully not out of pure blinding arrogance and greed.
Scan