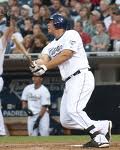 I know Kyle had a couple of hits in the game, but it seems that his been overmatched since the beginning of the season what gives? – Jose
Hey Jose,
You are not the only one wondering what is going on with the 88 Train in the early going.  He was 2/5 tonight to raise his average to .128, with 1HR ,1 RBI, and 8 K's.  He seems lost up there right now, taking or fouling hittable pitches, while chasing breaking balls out of the zone.
This is not dissimilar to Blanks' start last season when he first came up in June, and hit an anemic .160 for his first 50 at bats, with 0 HR's, 4 RBI and 17 K's.  Then, the big man hit his stride and proceeded to hit. 290 with 10 HR's, 18 RBI's.  He still struck out a lot, but when he connected he caused damage.
Some are already calling for him to be benched or sent down to AAA!  Seems to me that with only 5 games of the season played, and only 19 at bats under his belt, the best thing to do is let him keep getting his at bats to allow him the chance to get into a groove like he did last year.  If they need to move him out of the 4 spot and put Headley there for now, then so be it, but let the kid continue to get his plate at bats.  If a month into the season he hasn't found himself then, you consider alternative ways to get him back on track, but for now let the kid play.  He has a chance to be an important part of this team for many years to come.  Part of that development is working through slow starts, slumps, and tough streaks.  Hopefully he does what he did last year, finds that power rhythm, and continues on his way to being the right handed impact bat the Padres have so sorely needed in recent years.
Thanks for the email, and for watching the show!
Scan