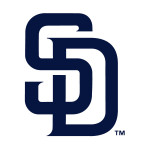 Some home cookin' did the Padres right tonight as they took down the visiting Rangers in the first game of this long home stand 7-0. Ross – great. Offense – persistent. Defense – mostly solid. Let's delve in!
Ross was excellent tonight from the very first pitch.   He was coming off a 4-run effort in his last start that snapped his 12 game streak of allowing 3 earned runs or less, and he pitched this night with something to prove.
Tonight was as good as I've seen him in at least his last 5 starts. Fastball command was near perfect to both sides of the plate right from the get go. His cutter, which he is using more and more as the season goes on, was sharp and late. The slider was not as vertical as we sometimes see it, but hard, late and deep none the less. Put it all together and it meant a looooong night for the Rangers.
Tyson ended up going 7 innings and looked strong the entire time. His only hints of getting out of his rhythm came in the 5th and 6th innings. The 5th opened with a single and walk on pitches up in the zone. Hedges helped him out though by gunning down Andrus trying to steal second which reduced the threat, and Tyson worked out. Then in the 6th with two outs he hit Fielder with what appeared to be an 0-2 cutter. Prince was really pissed about it, and slowly walked towards first base with the bat still in his hands, appearing to be contemplating whether to go "talk" with Tyson about it or not. After a long internal deliberation he opted not to. The next batter, Beltre, walked with no pitches being close. Balsley wisely went out to get Tyson refocused, which the big right hander did and retired the next batter for the final out – end of threat, and the last chance Texas had of even contemplating winning the game.
The Pads gave Ross all the run support he would need in the 3rd with two outs.  It's been a problem for Colby Lewis all season posting a .356 batting average against on 2-out situations with runners in scoring position, and the Friars took advantage tonight.  The game wining hit came off the bat of Alonso with Jankowski on 2nd (1B and SB) and two away.  Lewis got tow a two-strike count on Yonder with a CB down and in that he swung over the top of.  Lewis then made a terrible choice going with a slider inside (why? you just slowed his bat down leaving yourself almost no margin for error on that pitch), that was ripped down the right field line just inches foul.  The next pitch was a fastball up and in – fine.  then the 2-2 offering was a changeup away that was a solid choice to throw but he missed with it just a couple inches outside.   That pushed the count tot 3-2, which batters throughout the league reach base on  44.3% of the time.  Yo raised that percentage with a line drive single up the middle to score Jankowski.  Kemp would double him in to make it 2-0.  Yonder not chasing that CH away on that 2-2 pitch, and the ump not calling it was a huge turning point in the game.
The Pads then aded on four more in the 6th, with the Fathers batting around and Gyorko, Spangenberg, Ross himself, and Solarte all having a hand in driving in the runs, again with much of the damage coming with 2-outs, 6-0 Pads.
Norris pitched a solid 8th and 9th rolling five ground ball outs, with Wallace driving in an insurance run with his 12th pinch-hit of the season to make it 7-0 the final.
One error in the game on a low throw to first by Solarte, but he made up for it with a couple of really nice plays in the field as well.  Some nice scoops by Alonso, Hedges gunning down a runner as noted above as well as some crazy good stops behind the dish, Gyorko converted all his opps at SS cleanly…all in all a nice night for the boys with the leather.
Solid all around W to beat on of the hotter teams in the game right now.
Tomorrow Cashner will look to make it three in a row for the Friars.  He'll fire his first pitch at 7:10 while Ted "Uncle teddy" Leitner and I will proudly bring you the call on the Mighty 1090.  Look forward to you joining us!
Scan