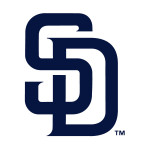 Now THAT'S more like it!  After breaking our hearts last night, like a fickle and manipulative lover baseball sidled back up next to us Padres fans this evening, purred sweet nothings into our ears and made us feel all warm and wonderful again with a 2-1 victory over the Dodgers to tie the series at one a piece.  Damn we're easy…but tonight's game was not!
The Friars drew first blood in the 1st off Greinke, and although it was only one run thanks to a Venable double and Upton swinging bunt single, any time you can get any run against him you take it.  Buddy's manipulation of the lineup to get Venable's hot bat into the game worked out brilliantly.  To get as many left bats in the lineup as possible, including Venables in CF, he had to move Myers to 1B, but that would leave another hot lefty bat Alonso out.  So he started Alonso at 3B for the first time in his Padres career.  Yo had one start at the hot corner while with Cincinnati, and made a token appearance there for a batter with the Pads back in 2013.  He had been taking ground balls over there several times in the past week, and Buddy intimated that it was possible Padre fans might see him over there at some point.  Tonight was that moment and the experiment seemed to work out well early on. yonder would end up getting two plays hit to him during the night and handled them both flawlessly.
The lead lasted up to the 3rd as former Padre backstop Yasmani Grandal decided to haunt his old club with a solo HR to tie it.  Like a Rocky movie Kennedy and Greinke then went to work going inning by inning, round by round, battling it out and chopping down batters with an assortment of pitches and fancy foot work.  Greinke had his usual fastball command to go with a nasty slider, wicked change, and power changeup.  Kennedy also spotted his fastball well with downward tilt, a good curve, and a late dropping change all of which seemed to improve as the night wore on.
Kennedy was finally pinch hit for in the 7th with two runners on, but no damage could be done.  Maurer fired a quick 1-2-3 8th (that's odd!), and the first two Pads hitters were retired in their half of the 8th.  That brought Upton to the plate with good career numbers against Greinke, but an 0-3 tonight.  It all changed with one hanging slider and one swing of the bat that sent the ball into the left center field seats and put the Pads up 2-1. The crowd noise as he circled the bases was awesome!
Kimbrel allowed a lead off base runner in Puig to start the 9th, but induced a double play out of Gonzalez to end the threat.  Kendrick went down on strikes and the ball game belonged to the Padres.  Yeah, after feeling forlorn and abandoned last night that warm, snuggly feeling of a baseball win was back tonight and holding nothing back. Let's hope it sticks around for a while now.
More good news from Padres land as Luebke threw in his first full fledged rehab game today for Lake Elsinore. It's been over three years since he last toed the rubber on a professional mound, and fired a clean 1-2-3 inning.  Assuming all continues to feel good he will throw another inning on Tuesday, and do it again on Friday.  He will continue to work in short relief out of the bullpen, similar to how AZ has handled Daniel Hudson who similarly had back to back TJ surgeries.
Fun night with a never before seen Padres lineup, excellent pitching, a dramatic late inning home run, and most of all a Padres victory. Tomorrow the Pads will go of the series win with Shields on the hill.  First pitch is scheduled for 1:10, and Uncle Teddy and I will look forward to you joining us for all the action on the Mighty 1090.
Scan