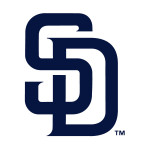 16-2 the A's over the Padres tonight.  Need I type more?  For those who didn't see it but want to know the morbid details I'll keep it short.
Despaigne struggled in the 1st and the Pads trailed 4-0 early. After that he settled down, allowed a run in the 3rd, but that was it through the next five innings.  The offense simply couldn't make up any ground against Jesse Chavez who ended up pitching 7 innings, allowed only 1 run on 3 hits and struck out 11 Pads batters.
The train really started to derail in the 7th when Despaigne allowed a lead off single, and was replaced with Garces who allowed a walk and three hits as the A's scored 4 more to make it 9-1.  Things really got out of hand in the 8th when 7 more runs scored as Mazzoni simply couldn't miss any Oakland bats. He couldn't finish the inning and Amarista was called upon from shortstop to get the final out which he did on two pitches.  It was the first time a Padres position player had to pitch since Josh Wilson did it in 2009, and Alexi was the ninth to do it in Pads history.
To add insult to injury, before the game started it was announced that Wil Myers would have surgery tomorrow to remove a bone spur in his left wrist.  He is expected to need 8 weeks before he can resume baseball activities.
It's been a challenging few days for the team, no question about it.  It will be interesting to see how they rebound tomorrow.
Ian Kennedy will get the ball tomorrow and try to get the Pads back on track.  First pitch is at 12:35 and Uncle Teddy and I will look forward to having you with us for all the action on the Mighty 1090.
Scan