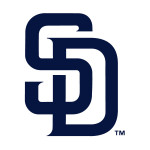 Ian Kennedy looked mahvelous tonight!  Unfortunately the bullpen did not, and the Padres dropped the rubber match of the series to the Rangers 4-3 in 10 innings.
Kennedy had his somewhat normal first inning challenges as he issued a 2-out free pass followed by a triple to allow a run to score, but the damage was kept to a minimum.  He posted zeros over the next four innings while the offense battled Hamels.
It took until the 4th for the Pads to finally get to the ace lefty. Gyorko started the inning with a single. Kemp then walked, but the next two batters struck out.  The veteran, Barmes, came through in the clutch with a 2-out double into right filed that scored both runners and the Fathers had the lead 2-1.
Short lived lead…where have we heard that before? Yep, the Rangers answered right back on a solo home run to knot it up at 2. The Pads put themselves back on top an inning later thanks to a ground ball by Barmes that with runners on 1st and 3rd which should probably have been an inning ending double play ball.  However, Andrus couldn't find the handle on the exchange which allowed Barmes to beat out the return throw and plated the runner from 3rd to put the boys on top 3-2.
Kennedy held that lead through the 7th, and by the time his night of excellence was done he had tied a personal strikeout record with 12.  Usually it's safe to hand a lead to the late inning bullpen but not tonight.  Benoit came on of the 8th but walked the lead of guy…recipe for disaster.  A single and a sacrifice fly later the lead was gone and the game was tied 3-3.
Zeros for both teams in the 9th and heigh ho, heigh ho, it was off to extra innings we go.  Didn't take many extra frames though as Texas scored a run off Norris in the 10th and that was it.  The Pads were skunked in their half of the 10th and the contest was over.
No time to lament the loss though because…the Dodgers are coming, the Dodgers are coming! Yep for a four game set. Rea will go for the Pads and former Friar Latos for L.A.  First pitch will be at 7:10, and your truly and Uncle Teddy will look toward to having you join us for the action on the Mighty 1090.
Scan