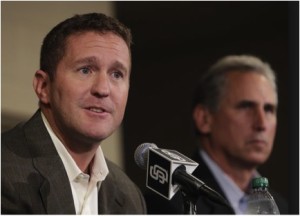 When things don't go well with MLB teams on the field, often times changes are made. That was the case today with the Padres as they announced that Vice president/General Manager Josh Byrnes has been releived of his duties.  That a change was made is not a huge surprise as both team Executive Chairman Ron Fowler, and President Mike Dee had indicated recently that changes were imminent.  What was unknown was what the change would be, and today it was revealed.  According to Dee, no other moves are imediately imminent.  The search for a new GM is under way, and in the meantime Omar Minaya, A.J. Hinch, and Freddy Uhlman, Jr. will oversee baseball operations.
As with every baseball executive Byrnes' track record is filled with successes, missteps, and luck both good and bad.  Most of his successes were in trades he made, but unfortunately that's also where some of the bad luck reared its ugly head.
Carlos Quentin form the White Sox for Simon Castro and Pedro Hernandez:  Quentin has been an impact bat when he's in the lineup, but knee and other injuries have allowed him to play in only 197 games in the past 3 seasons.  Would have been a big winning trade without the injuries.
Matt Latos to the Reds for Yasmani Grandal, Yonder Alonso, Edinson Volquez, and Brad Boxberger:  When this trade was first announced, scouts and executives throughout baseball labeled this an overpay by the Reds. Should have been  a turning point for the lineup, and help for the pitching staff.  Grandal was soon to be an everyday power switch hitting catcher, Grandal a solid hitting first baseman, Boxberger a late inning bullpen arm, and Volquez a wild card piece that had the potential to be a rotation difference maker with his overpowering albeit inconsistent stuff.  Grandal got popped for PED's and inured his knee, Grandal's progress has been hampered with hand problems last year and now again this year, Boxberger showed moments of being an effective bullpen arm but not for extended stretches, and Volquez confounded Padres fans with his inconsistency more often than opposing batters with his stuff.
Tyson Ross from Oakland for Andy Parrino and Andrew Werner:  Indisputable lopsided win for the Padres on this one.
Andrew Cashner from Cubs for Anthony Rizzo: Despite Cash's injury set backs at times, has shown ability to be dominant top of the rotation pitcher. Great value added to staff and organization.
Ian Kennedy from the D'Backs for Joe Thatcher:  Kennedy has had his share of good outings this season with 11/16 starts allowing 3 earned runs or less.
Seth Smith from Oakland for Luke Gregerson:  Smith has done everything he was expected to do as a LH bat and more.
Huston Street – great signing.
Joaquin Benoit – so far a great signing.
Who knows how different things might be had the injuries to Quentin, Alonso, and Grandal along with the unknown PED issue not taken their toll.  Other injuries to pitchers Casey Kelly, Joe Wieland, Cory Luebke, and Josh Johnson have not helped, nor the injury issues to Headley.
It's not all bad luck.  There are decisions that flat out didn't go as planned, but it was not for lack of effort, research, or good intent by Josh or his staff.  None the less, when your MLB team struggles the way the Padres have the results are ultimately what carry the day.  Josh is an experienced baseball man who will find another opportunity to help an organization before long.
For the Padres the focus must now be in choosing the right person to succeed Byrnes, and set the direction for the organization for years to come.
Scan